Future chefs battle for place in regional final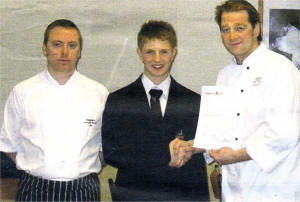 At the local Stage of the FutureChef 2009 Competition held at Lisburn Campus, South Eastern Regional College, are winner Andrew Michaelides of Wallace High School Lisburn and judges Derek Patterson of the Plough Hillsborough, and Jim Mulholland, Head Chef, Ballyrobbin Country House.
A PUPIL from Wallace High School has been selected as the winner of the local heats of the Future Chef 2009 Programme.
Andrew Michaelides took part in the local stage of the event held at the Lisburn Campus of South Eastern Regional College in partnership with Springboard UK.
The FutureChef Programme is an award-winning programme supported by TV celebrity chef Brian Turner, aimed at providing students with a taste of the world of professional cooking. By enhancing their learning experiences and career prospects, Future Chef aims to inspire a new generation of chef's in schools across the UK.
Competitors, all aged 14 — 16 years, had to prepare and cook a hot main course and dessert for two people with a budget of only £6. Andrew will now participate in the regional final which will be held in February. To help him prepare for this, Andrew has been allocated a Chef Mentor who will support and advise him along the way. This year the Chef Mentor is Derek Patterson, Executive Chef, of The Plough Hillsborough. Jim Mulholland, Head Chef at Ballyrobbin Country House, a judge at the Lisburn heat, said: "I have been very impressed with the technical skills displayed by the competitors and by the quality of the dishes that where produced. All the competitors have dis- played great skills and have a bright future in front of them."
The overall FutureChef wins a range of prizes including an all expenses paid trip to Rome for the winner and their family.
Ulster Star
30/01/2009