Glenavy Vintage Club hosts indoor show in Moira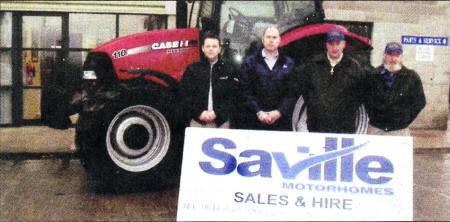 James Hanna (left) Sales Representative and Greg Wilson, Managing Director for Saville Machinery and Motorhomes Hillsborough with Robert Mitchell, Chairman and David Heron (right) Vice Chairman of Glenavy and District Vintage Club at the launch of the Glenavy Club Charity Indoor Show
THE Annual Glenavy & District Vintage Club charity indoor show will be held in the Trummery Sales Arena in Moira on Friday March 6 from 4pm9pm and on Saturday March 7 from 10 am - 4.30pm.
Saville Machinery and Motorhomes, the local Case International Tractor Dealer, are the main sponsor for this year's show which will feature a display of the new and older models of Case International Tractors.
In addition to the normal display of a wide range of vintage and classic tractors, lorries, cars and motorcycles, a good variety of items will be for sale in the auto jumble and a number of new tractors will also be on show.
The 1959 Fordson Dexta, which is to be auctioned by Commercial Vehicle Auction Ltd at their Vintage Tractor Auction on Saturday April 18, in support of the Fields of Life charity, will be on display at the indoor show. The Dexta has been restored to immaculate condition and is being donated for the auction by the Mackey family, who live near Glenavy. Owners are welcome to bring their vintage or classic tractors and vehicles for display at the show. However, as space is limited, those intending to bring an exhibit should contact Mark Anderson on 07749211818 to book a place.
All exhibits must be in position not later than 9pm on Thursday March 5 and security will be provided during the night of Thursday March 5 and Friday March 6.
For further information contact the Club Secretary, Mark Anderson on 07749 211818.
Ulster Star
20/02/2009