GLENAVY and District Vintage -Club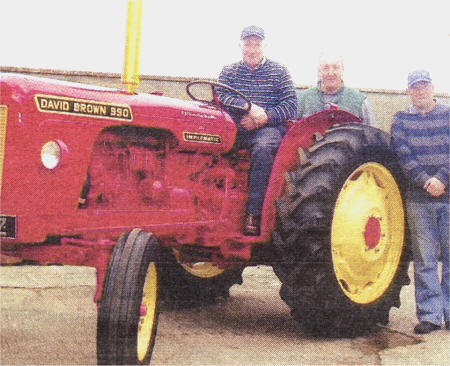 Gerard Catney (left) of Kilwarlin, Moira with his son Eamon (right) and Robert Mitchell, Chairman of Glenavy Vintage Club, with Gerard and Eamon's 1963 David Brown 990 which was bought in 2002, in rough condition, and restored over a two year period, to immaculate condition, for display at the 2005 Glenavy Club Indoor Show. Gerard and Eamon are both members of Glenavy Vintage Club and are planning to take part in tomorrow's (Saturday) Charity Road Run. US2509-Vintage Road Run
GLENAVY and District Vintage -Club will be holding a Charity Toad Run in aid of Fields of Life °tomorrow (Saturday) from -11.30am to 3pm.
Local vehicle owners with their ,Tractors, Cars, Lorries and Motorcycles will be made very welcome to take part in the event.
The Road Run, which will 'begin at 12pm, will follow a route in the Glenavy, Crumlin sand Aldergrove Area, with a stop for lunch at 1pm and ,return to Glenavy at 3pm.
Car, Lorry and Motorcycle ',owners are asked to assemble, with their vehicles, in Glenavy
Church of Ireland car park, whilst Tractor drivers are asked to take their tractors to a parking area on the Gobrana Road, Glenavy.
It is requested that all participants would report to the respective starting points by 11.30am for a prompt start at 12 noon.
There is no entry fee for those taking part in the Road Run but a donation to the Fields of Life charity will be very much appreciated.
For further information please contact Mark Anderson on 07749211818 or Mark Ross on 028 944 22 093 .
Ulster Star
19/06/2009