Firm secures £4.5m of new contracts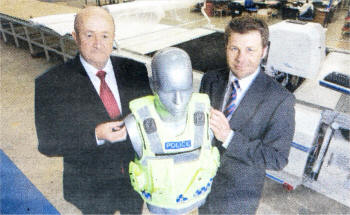 A LISBURN manufacturer of life protection products has secured new export contracts worth more than £4.5 million following the expansion of its production capacity.
Global Armour has won four separate new contracts to supply some 7,500 units of body armour after investing in excess of £500,000 in new manufacturing technology.
Kenton Hilman, a business banking director with Ulster Bank, which has supported the firm's expansion, says the new contracts are in four different countries and two continents. "Global Armour is one of the most innovative businesses in its sector, with a 30-year track-record of supplying armour for major police forces, emergency services and military personnel across the world. It already supplies several police forces in the UK and further afield and its new customers include another major UK constabulary and police forces in Central America and Bermuda," he says.
"We have provided finance to support the investment in new manufacturing equipment as well as invoice finance and, overdraft facilities. We are committed to continuing to support Global Armour to help it secure and meet further export contracts."
Ulster Bank's support for Global Armour includes money made available through its £250m fund for small to medium-sized enterprises in Northern Ireland.
Global Armour employs 45 people at a 20,000 sq ft facility in tissue Industrial Estate. It has supplied over 100 police, military and private sector organisations worldwide, equipping more than 150,000 officers and personnel with life protection products.
Ulster Star
22/05/2009