Have you spotted the Google car?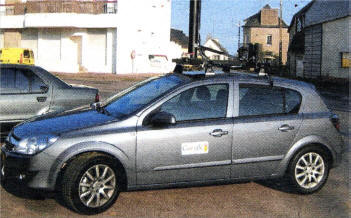 RUMOURS are rife that the Google car has been spotted around Lisburn, snapping pictures which will be transformed into an online 'Street View' of the city.
One of the biggest and most recognisable Internet brands, Google hit the headlines earlier this year when they launched their 'Street View' project, enabling people 'street eye' rather than 'birds eye' views of their local towns and cities.
The scheme has proved to be controversial, with many expressing concern about privacy and security. However, Google have said it is helping to promote tourism in Britain.
Belfast was the first Northern Ireland city to be put on the Google map and now plans seem to be underway to extend the project into other parts of the Province, including Lisburn.
Google were tight-lipped about when the streets of Lisburn would be uploaded onto the web but indicated that if readers had spotted the Google-branded car or van on local streets, it would be safe to assume they would be online in the near future.
* Have you seen the Google car or van, complete with Google logo and roof-mounted camera, on the streets of Lisburn? Have they been snapping in your street? Do you have concerns about Lisburn becoming part of Street View? Or do you think it will help to promote the city, attract tourists, put Lisburn on the map and show just what we have to offer?
Get in touch and let us know your thoughts. Contact Julie-Ann Spence at the Ulster Star at 12A Bow Street Lisburn, telephone 028 92679111 or send an email to julieann.spence@ulsterstar.co.uk.
Ulster Star
22/05/2009