Lisburn men make a little bit of history at the Grand Ole Opry
Colin and Samuel introduced to crowd by music legend
by JULIE ANN SPENCE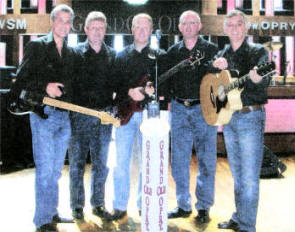 Live Issue on the stage of the Grand Ole Opry in Nashville fL-R Carl Sands, Samuel Purdy, Colin Elliott, Sam Armstrong and Roy Dreaning.
COUNTRY Gospel group Live Issue, whose line up includes Brownlee Primary School principal Colin Elliott and keyboard player Samuel Purdy from Lisburn, have made musical history by becoming the first ever Irish band to perform at the world famous Grand Ole Opry.
The appearance in Nashville Tennessee at the beginning of August was the culmination of a very successful tour of the United States. Live Issue appeared as special guests of Country Music legend George Hamilton IV, who introduced the group to the 4,500 strong audience in the Grand Ole Opry House. It was only the second time a group from the British Isles had played there. The first, a Liverpool group called The Hillsiders, appeared back in 1967.
Live Issue performed one of their trademark songs, 'The Old Account Was Settled Long Ago' with George Hamilton IV taking vocals on one of the verses.
The uniqueness of the occasion and the driving country beat that Live Issue are known for resulted in rapturous applause from the Opry audience. The large Irish contingent was particularly enthusiastic and the applause continued long after the group unplugged their instruments, waved to the crowd and left the stage.
Back home in Lisburn and enjoying what remains of the school holidays, Colin said it was a "thrill" for the band to play such a prestigious venue, something they never imagined would be possible.
He said it was thanks to the legendary George Hamilton IV who is a strong supporter of the group, that their dream came true.
It was absolutely fantastic," said Colin. "It is a bit of a closed shop at the Grand Ole Opry so it was a great show of faith for them to let us on the stage.
"We never thought we would play there. We have played the Midnight Jamboree, which is the show on immediately after the Grand Ole Opry and we have been back stage but we never imagined we would have the chance to play.
"There is so much prestige with playing the Dpry and it was a real thrill for us."
Live Issue's website www.liveissue.ik.com details all the group's local bookings and the band's new CD entitled 'Makin' Plans' is available from Faith Mission Bookshops or From www.hillcrestrecordings.btik.com.
julieann.spence@ulsterstar.co.uk
Ulster Star
14/08/2009