Shedding light on the great bulb switch off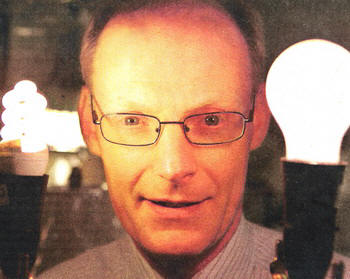 MANUFACTURE and import might have stopped this week, but the lights won't be going out on the traditional 100 watt bulb for some time yet, according to a local retailer.
Whilst September 1 saw the phasing out of the traditional bulb begin across the EU, the remaining stockpiles of bulbs will continue to be on sale and consumers have been stocking up on traditional bulbs in local retailer Smyth Patterson.
Under new European legislation aimed at cutting carbon emissions, the 100 watt bulb will go now, with 60 watt and 40 watt bulbs following in 2010 and 2011.
Colin Patterson of Smyth Patterson's, Lisburn, said that whilst the new energy efficient bulbs were better in the long term, lasting longer and saving money on bills, sales of the traditional bulbs have increased "100 fold".
Colin commented: "From September 1 the 100 watt bulbs will no longer be manufactured and they are not being imported into the EU, however we have bought in stocks and we would like to think that we will still have the bulbs for a year, although that may be very optimistic."
Colin added: "People used to buy two or three bulbs and now they are buying 10 or 20 and then they will be back in again a few days later buying the same again.
"Most people feel the new bulbs don't give the same light and some find that the new bulbs don't fit the light fittings they want them for. There is some apprehension amongst people, especially the elderly.
"The new bulbs are very good, but different. There is also an environmental aspect, they have to be disposed of properly as there is mercury in them. They are supposed to be taken for recycling, you can't just put them into the bin, although they do last ten times as long. So whilst there is a little bit of work to do in the end it is better."
Colin s is hoping to organise an advice day in store later this month with the Energy Savings Trust to inform people about the new energy efficient bulbs and the best bulb for their needs.
'There is a lot of confusion, people have said to us you are going to be prosecuted for selling those bulbs', but you can sell them as long as you like, however it is illegal to manufacture or import them" he said.
Under new legislation, it is illegal for a manufacturer or retailer to import 100W light bulbs into the EU from September 1, whilst trading standards could apply penalties of up to £5000 (magistrates court) or unlimited fines (Crown Courts) to importers of 100W bulbs.
stacey.heaney@ulsterstar.co.uk
Colin Patterson, of Smyth Patterson says he will continue to stock normal light bulbs. Many other shops now only sell low-energy bulbs, which has led to a rush of shoppers keen to build up a stockpile of traditional tungsten bulbs amid fears they may soon be phased out.
Ulster Star
04/09/2009