Lisburn Tesco raises over £10,000 for Marie Curie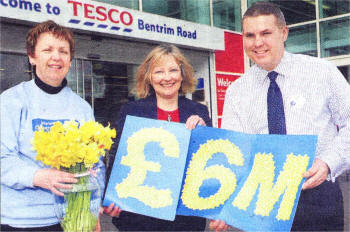 TESCO staff and customers at the retailer's Lisburn store have raised £10,400 for Marie Curie Cancer Care as part of their 2008 Charity of the Year partnership.
The store in Bentrim Road was one of the top fundraising stores in the UK, as Tesco helped to raise over £6.1 million for the charity.
Marie Curie Nurses provide end of life nursing care for terminally ill patients in their own homes.
Staff raised funds through a variety of events such as 'go yellow' days, collections for Marie Curie Cancer Care's annual Great Daffodil Appeal, sponsored runs, tea parties and eyen sat in a baths of beans.
Phil Kane, Fundraising Officer for Marie Curie thanked all those who raised the money.
Tony O'Neill, Store Manager at Tesco Lisburn, said: "At a time when you might expect people to be more careful
with their money, it's heartening to see that Tesco staff and customers have raised more than ever before for our Charity of the Year.
"Our partnership with Marie Curie Cancer Care is helping our local communities and I think that's why so many people have got involved. Everyone can understand the difference Marie Curie Nurses make.
"Everyone at Tesco is delighted that we have raised £10,400 to help."
Ulster Star
24/04/2009