Mall makes Guide Dogs its charity of the year
by STACEY HEANEY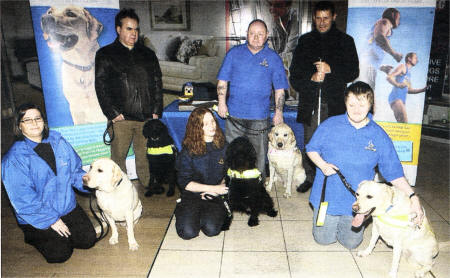 Local Guide Dog owners paid a visit to Bow Street Mall last weekend as The Guide Dogs for the Blind Association was made the Mall's Charity for 2009. US0309-104A0
Picture By: Aidan O'Reilly
LOCAL people will have the opportunity to help one of the province's best loved charities this year after Bow Street Mall made The Guide Dogs for the Blind Association its charity of the year.
A group of guide dog owners visited the Mall last Friday to mark the occasion, which incorporated a street collection. Kathy Peart, who works for Guide Dogs in Northern Ireland, said: "We currently spend £400,000 a year enabling disabled people in Northern Ireland to enjoy more fulfilling lives.
"In particular, we have 90 working dogs in the province that have transformed the happiness, confidence, and job prospects of their owners.
"We know that times are hard, with the credit crunch, but we are determined to carry on with this vital work no matter what, and it's important to us to continue to enjoy the support of both communities in the province.
"Research that we have carried out shows that more than 45,000 people aged between 16 and 75+ in Northern Ireland is visually impaired."
Karen Marshall, Acting Centre Manager at Bow St Mall, added: "We are delighted to be working with Guide Dogs this year. The : work that they do and services they provide are vitally important, particularly to those who 4 are living with visual impairments, in helping them to have a much higher quality of life. "Through our partnership with Guide Dogs, we hope to not only : raise much needed funds for the 4 charity this year, but also to raise the level of awareness about the : work of Guide Dogs and issues 4 concerning living with a visual impairment, within the community. Also through the partnership we will be aiming to improve the level of customer service provided by our staff to 4 customers with visual impairments through training, initiatives provided by the Guide 4 Dogs staff."
For further information on Guide Dogs you can visit the website at' www.guidedogs.org.uk.
Ulster Star
16/01/2009