Appeal to local Ford Ferguson owners ahead of homestead event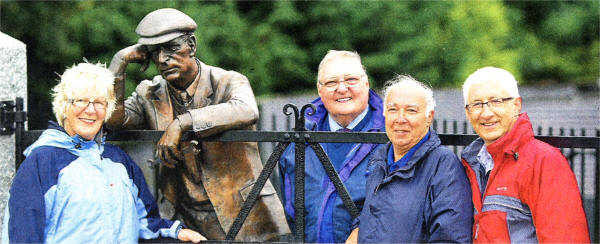 Mrs Ester Erwin, from the Dr Amara branch of Cancer Research UK, with Harry Ferguson Celebration Committee members George Cromie, secretary; Eric Jess, chairman; and Bill Forsythe, public relations, pictured beside a statue of the famous tractor inventor at his former home.
THE Harry Ferguson Celebration Committee is staging their annual homestead event and is appealing for Ford Ferguson owners to bring their models along.
This event on Saturday August 15 will show as many Ford Ferguson models as the committee can get its hands on and will also display every other Ferguson tractor available.
Commemorate
This year why not come along and enjoy the memorial garden which is more mature and colourful.
For the first time since the committee formed 10 years ago, proceeds will be given to a local charity group in aid of cancer. The event will also commemorate a very special time in memory of Harry's 100 years of flight in his own aircraft in Hillsborough Forest Park.
The committee will be celebrating this anniversary in association with the local Ulster Aviation Society and hope to stage a flyover during the event at the homestead weather permitting.
The Ulster Aviation Society have plans in relation to erecting a plaque in the forest park in memory of yet another great invention from Harry Ferguson. For those who do not know Harry was the first Irishman to build and fly his own aircraft and also the first to take a female up in such a machine.
Aviation celebrations are planned to take place the week prior to the Homestead event. The committee extends their invitation to all makes of tractors and hopes to be in a position to hand over a healthy sum to the charity on the day.
Celebrations
Trade stands / catering / tools / spares and Ferguson limited edition memorial merchandise for sale on the day.
Please come along and enjoy both celebrations with or without your tractor as you will be most welcome and if you need help or direction please contact Bill on 077202692110 or George on 0289268215 or email bforsythe@hotmail.co.uk.
Ulster Star
07/08/2009