A hearing loss wake up call from the Co-op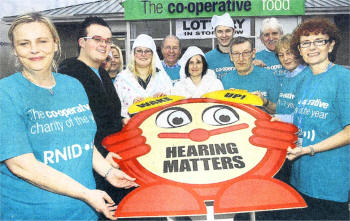 A GIANT alarm clock and Co-operative staff dressed in pyjamas, dressing gowns, nightcaps and slippers provided a wake up call to customers on hearing loss issues recently.
The staff in the Belsize Road store joined thousands of colleagues across the UK in helping to launch a £2m fundraising campaign for RNID, the charity for people who are deaf or hard of hearing.
The campaign also aims to increase awareness of deafness and the signs of hearing loss. With the support of its members and customers, The Co-operative hopes to raise more than £2m by the end of the year for the charity
Staff across The Co-operative's businesses, including food retail, travel, funerals, pharmacy, banking, insurance and farming will all be taking part.
All money collected at local stores will directly benefit people who are deaf or hard of hearing in the region.
Lisburn's Belsize Road store manager Sharon Smyth said: "Coming to work in our pyjamas was bound to get us some strange looks from customers but if we can raise money for this worthwhile cause and give people a wake-up call about their hearing, it'll be a dream come true "
Ulster Star
13/02/2009