Concern over low use of heart helpline in Lisburn
by SARAH TOLAND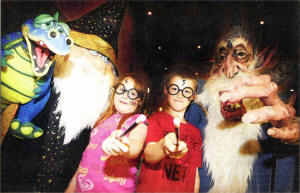 Amy Murray and Nathan McCard, both ten, with Bow Street Mall's resident Wizards during the Harry Potter theme day at the Mall.
US3009-103A0
HEART patients and their families in Lisburn are missing out on vital support and could be suffering in silence, according to the British Heart Foundation (BHF) Northern Ireland.
The heart charity says it is concerned about the low number of calls to its Heart HelpLine locally, despite there being more than 4,000 people living with coronary heart disease in the Lisburn City Council area.
Depression is also a common problem in patients following acute cardiac events, and it is estimated that up to 20% of individuals have a major depressive episode within a few weeks, with a further 25% experiencing milder depression. Ensuring heart patients have support is particularly important because inadequate social support can also harm their chances of recovery.
To tackle this, the BHF has launched a campaign to get heart patients and their families to seek support and information by calling its Heart HelpLine on 0300 333 1 333.
BHF Cardiac Nurse Ellen Mason said: "There are hidden costs to heart disease that most people wouldn't think of — the impact that it can have on their jobs, income, family life, and mental wellbeing.
"No one should have to deal with all those things without the offer of support, but people often don't know that their experiences and feelings are normal, or feel they can talk about it. Anyone concerned about heart disease can call our Heart HelpLine for information and support."
The BHF's Heart HelpLine is staffed by cardiac nurses, a bereavement counsellor and heart health advisors to provide lifestyle advice.
To get free information and support from BHF Northern Ireland, anyone in the UK can call the Heart HelpLine on 0300 333 1333 for the price of a local call.
Living With a Heart Condition.
Ulster Star
24/07/2009