Local woman nominated for Nurse of the Year award
by DAN McALISTER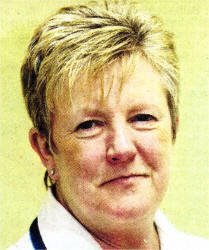 A LOCAL woman has received a nomination for the prestigious Nurse Of The Year award for her work at Aghalee Practice.
Helen Robinson was nominated by one of the group's patients in the Northern Ireland Healthcare Awards 2008 in the category General Practice Nurse of the Year. The awards were part of the celebrations for 60 years of the National Health Service.
Helen, who started her current job in 2000 was also among the first Nurse Practitioners to qualify as a prescriber. Under her direction the practice now runs male and female health clinics alongside specialist clinics in asthma, diabetes and hypertension.
Helen identified the needs of the area regarding population structure and age profiles and responded to her findings by running a series of health evenings on a range of issues.
Aghalee currently has around 4,500 patients and three GPs.
Her colleague Eilish McNickle said: "Helen was runner up at the award but to be nominated is a terrific accolade for her."
NI Medical Review had this to say: "Helen's dedication, work ethic and commitment to excellent service delivery has greatly assisted with the smooth running of the busy Aghalee Practice." Helen said: "It was an honour to be nominated. To win would have been a bonus but we are all winners at the practise as we work as a team. Everyone pulls their weight and it is lovely to be recognised for the hard work we do."
Ulster Star
20/03/2009