D-Day to remember for Dunmurry veteran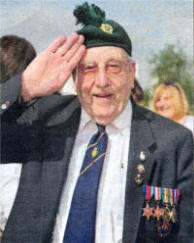 A DUNMURRY veteran of the Normandy landings during the Second World War has been back to France to relive old memories.
Henry Francis, who is 90 and-lives at Locksley Park, went on a five-day visit organised by tour operator Fields of Conflict. The tour was part of the international commemoration of the 65th anniversary of D-Day on 6 June 1944.
The Normandy landings started on D-Day and were an enormous operation that was the beginning of the end of the war" involving thousands of soldiers, sailors and airmen.
During the war, Mr Francis was a corporal in the Royal Army Service Corps. He and ten other veterans on the Fields of Conflict tour visited several landmark locations, including the Royal Ulster Rifles Memorial; the Bayeaux War Cemetery, the largest British military cemetery of the Second World War in France; the American cemetery overlooking Omaha Beach featured in the film 'Saving Private Ryan'; and the German cemetery at La Cambe, where the bodies of 21,500 German soldiers are buried.
Ulster Star
12/06/2009