History brought to life at Hilden Play Park
by JULIE ANN SPENCE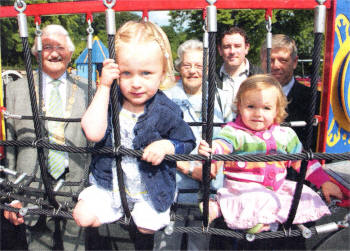 THANKS to Lisburn City Council, Hilden Community Association and the children from the former Hilden Integrated Primary School, history came to life when the refurbished Play Park at Hilden was officially opened last week. Over 100 years ago, Hilden Play Park was created by William Barbour & Sons, the owners of Hilden Mill, for the families of their employees. But what was once a valuable asset turned into a neglected resource with the demise and the eventual closure of the Mill.
Lisburn City Council took over responsibility of the play area land in 2006 from the Trustees of Barbour Treads Ltd. with the vision of returning the Play Park to its former glory for the children of the area to enjoy once again.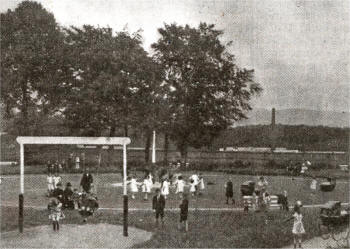 The Mayor of Lisburn, Councillor Ronnie Crawford, said: "The area is steeped in history and the Play Park could have easily ended up in the history books. Through the determination of the Hilden Community Association, the children of the former Hilden Integrated Primary School and the resources of Lisburn City Council, we have managed to bring to life this Play Park and reinstate it as an integral part of the community here in Hilden."
Among the distinguished guests at the official opening was Mrs Elise Coburn (nee Barbour) from the Coats Barbour Trust.
"Hilden play area has been a focal point for generations and the revitalised play area we have today will continue to be at the heart of this community," she said. "I hope that many generations to come will enjoy this great facility."
Barry Donaghy, Chairman of the Hilden Community Association, was delighted with how the park now looks.
"I would like to thank everyone involved for their hard work and commitment to this project. It is a well-used, attractive park with great facilities and I would encourage everyone to use it, look after it and be proud of our area" he said.
Chairman of the Council's Leisure Services Committee, Councillor Brian Heading added: "We now have one of the best play parks in Lisburn and the equipment and layout of the park have already proved popular."
julieann.spence@ulsterstar.co.uk
Ulster Star
19/06/2009