Hillhall Golden Star RBP 1074 host annual parade and service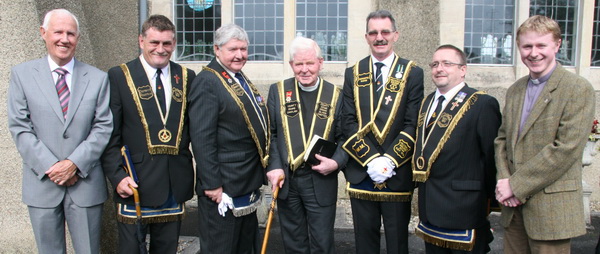 L to R: John Connor (Clerk of Session, Hillhall Presbyterian), Sir Knt Ron Pedlow (District Registrar, Largymore RBDC No 9), Sir Knt Tom Wilkinson (Worshipful District Master, Largymore RBDC No 9), Rev Gerry Sproule (Largymore RBDC No 9 District Chaplain), Sir Knt Alan Farrell (Worshipful Master RBP 1074), Sir Knt Stephen Law (Deputy District Master,
Lisburn RBDC No 1) and Mr Edward McKenzie (Hillhall Student Assistant).
Sir Knights of Lisburn, Largymore and Lower Iveagh Royal Black District Chapters packed Hillhall Presbyterian Church Hall for the annual Royal Black Preceptory Service on Sunday 23rd August. Hosted by Hillhall Golden Star RBP 1074, the parade assembled at Lisburn Orange Hall and led by Roses Lane Ends Flute Band, made its way to Hillhall Presbyterian Church. Lisburn Young Defenders, Lambeg Orange & Blue, Lisburn Fusiliers and Ballycoan Flute Bands also took part in the parade.
John Connor, Hillhall clerk of Session welcomed the Sir Knights. The student assistant at Hillhall, Mr Edward McKenzie, led the service minister and the Rev Gerry Sproule (Largymore No 9 District Chaplain) preached the sermon. Mrs Maxine McConaghy presided at the piano and together with the church choir led the singing of congregational hymns that included, 'The Lord's my shepherd' and 'O for a closer walk with Thee' and 'O God our help in ages past'. The soloist was Sir Knt Cecil Buchanan (Beaconsfield Chosen Few RBP No 14), who sang ' He liften me' and 'He touched me',
Sir Knt Alan Farrell (RBP 1074 Worshipful Master) concluded the service by thanking the Session of Hillhall Presbyterian for the use of the church and also thanked all who organised, took part in and attended the service.
The offering of £569, will be donated to Diabetes UK, this year's RBP designated charity.
Ulster Star
24/08/2009