Diamond Jubilee celebrations for Hillsborough Horticultural Society
| | |
| --- | --- |
| | |
| Pamela and Ronnie Atkinson with Eleanor Alexander and Society's Chairman Derek Alexander | Jacqui Townsley, President with guest speaker the Rev. William McMillan. |
HILLSBOROUGH Horticultural Society has celebrated its Diamond Jubilee with a dinner at the Pheasant Restaurant.
The guest speaker was the Rev. William McMillan, the world renowned authority on flower arranging and a supporter of the Society for many years. Sixty members enjoyed an excellent meal in convivial surroundings.
President Jacqui Townsley opened the proceedings by welcoming everyone and recalling her experiences as a member of some 35 years.
After the meal Chairman Derek Alexander gave a resume of the history of the Society.
"The Society had a social conscience and in 1968 it took a strong stand on the 'cutting and disfiguration of trees' in the Hillsborough area and the minutes show that the Society regularly put forward views on brightening up the village.
SOUGHT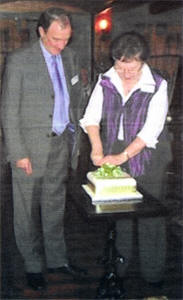 The BBC has frequently sought the Society's participation in their gardening programmes and most recently it visited our President's garden with John Cushnie giving a running commentary on what he found there."
He added: "We are now living in a different world to that of our predecessors who started the Society 60 years ago.
"Now we have environmental issues, climate change, carbon footprints, rules and regulations about insecticides and herbicides, debates over maintenance of parks and green spaces etc. "So we don't know what sort of conditions under which will be gardening in the next 60 years. But we are confident that Hillsborough Horticultural Society will still be around," he continued.
Walter Smyth, the Society's longest-serving, surviving member, a past President and Chairman, who joined in 1952 gave a short talk on how the Society had started not long after the second World War, when rationing still existed and food was in short supply!
The Rev. William McMillan, guest speaker, then gave a very interesting and amusing talk.
He recalled the influence of Hillsborough Horticultural Society on his life and how much he was in its debt.
TOAST
He then proposed a toast to the Society wishing it well for the next 60 years.
The meeting was brought to a close by Moore Chestnutt who thanked all those who had made the evening a success, mentioning the President, Jacqui Townsley, the Chairman Derek Alexander, the Secretary Peter Hine and Treasurer John Cranston who had organized the night, Kathleen Ingleston and Eleanor Alexander who had provided the floral decorations and the committee for its support. The next meeting of the Society will be on January 28 at 8.00pm in the Village Centre when the speaker will be Adrian Walsh, Gardener of the Year 2001 and his subject will be Courtyard Gardening.
Ulster Star
16/01/2009