Recognition for Hillsborough Medical Centre at annual Gala Awards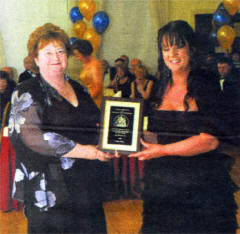 'MERE was recognition for staff from Hillsborough Medical Centre at the recent Royal College of GPs 7th Annual Gala Awards Evening, which saw Local GPs, practices and practice staff coming together from all parts of Northern Ireland. The three prestigious awards on offer included 'Practice Manager of the Year 2008', 'Practice Administration Team 2008' and 'Patient Nomination Award 2008'.
It was a successful evening for Cathy Pielou, the Practice Manager from Hillsborough Medical Centre. Cathy was overjoyed to be placed as second runner up in the coveted 'Practice Manager award 2008'. As in previous years the awards were highly competitive, with numerous nominations being received from around Northern Ireland.
Dr Val McGarrell, manager of the Royal College of GPs in Northern Ireland, explained: "These awards have been
designed to test both the practice manager and their Administration Team's ability to go 'that extra mile' for their patients and the GP's in times of need."
Cathy commented: "I was delighted to be second runner up in the Royal College of GPs (NI) Practice Manager of the Year Award. No Practice Manager could hope to achieve recognition if it was not for the great team they have behind them, and I have to thank all the staff for the support they give me that allows me to do my job as well as I can.
"My special thanks must go to the doctors here as they put me forward for the award," she added.
We had a great evening at the Dunadry and I was delighted to collect the Award in front of my husband David and all the doctors from the Practice. I felt then, and do still, that it is a tribute to all of us working here at Hillsborough Medical Practice."
Ulster Star
23/01/2009