Family in miraculous escape from hit and run accident
"How can someone hit a car with a family in it and drive off
and not worry if they had been killed?"
by MARY MAGEE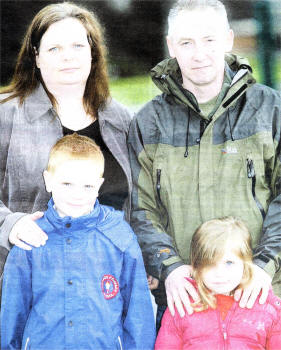 THE VICTIM of a hit and run has described the driver of a white Hyundai that drove into him on Friday night as 'nothing more than scum.'
Robert Cleland was driving his wife Melanie and children Eloise (3) and Michael (8) along the Knockmore Road in a rented car on Friday night around 6.15pm when he noticed two children standing at the central reservation
attempting to cross the road and saw a car spinning out of control. It narrowly missed the two children but then hit the rear side his car where little Eloise was sitting before driving off.
Robert, a Christian youth leader, had been going to the local shops before heading onto Maze Presbyterian Church Youth Club when the incident with the white Hyundai Accent car occurred.
Robert, of Ballinderry Gardens, was outraged by what happened. He said his children were left hysterical and were forced to wait outside in the freezing cold until the police arrived 30 minutes later.
A driver behind them stopped to see if they were allright and offered his two children sweets and Coca Cola. The two children crossing the road who also seen what had happened also stopped to make sure the family were allright and stayed with them until the police arrived.
"How the car did not hit those two children I will never know," Robert said. "They were missed by just a few feet. It was just unbelievable.
"If it had not been for the back bar in the car which seemed to push the car away goodness only knows what would have happened ...my child could have been seriously injured or worse."
But Robert's bad luck had not stopped there. When the police arrived he was not only breathalysed but told to bring his driving documents to the police station. When he returned the car the following morning to the rental company he had to pay a £250 excess fee.
"It is a busy road on a Friday night and no-one, except the car behind me, stopped to see if we were all right," he said.
"We had to stand outside in the freezing cold. You could not stay inside the car as it was too dangerous. We were all really shaken but the police were very unsympathetic."
Robert said he is angry at the hit and run driver who failed to stop.
"How can someone do that, hit a car with a family in it and drive off and not worry if they had been killed or injured? I do not know," he said.
"Since it happened Eloise has been waking up during the night. My son Michael was in a car accident with his granny and he suffered nightmares for a long time after. I just hoped that that does not happen again."
Police appeal for witnesses
A spokesperson for Lisburn police said they are appealing for witnesses following the hit-and-run on Friday evening on the Knockmore Road..
He said a white Hyundai Accent was discovered in Hulls Lane, Lisburn following the accident but the last registered owner had been spoken to by the police who told them that he had sold the vehicle in September.
He went onto explain that any driver involved in an accident are breathalysed and asked to hand over documents including an MOT certificate and insurance to the police station. He said it was standard procedure and there was no discretion.
Ulster Star
27/02/2009