Holly treads the boards with Bruiser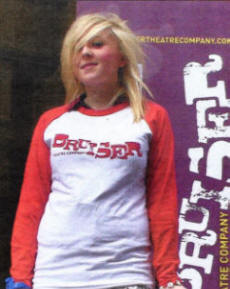 Holly Balentine, who is taking part in Bruiser Theatre's Summer School
A BUDDING young Lisburn thespian has been chosen from hundreds of hopefuls to take part in a prestigious theatre summer school at the Old Museum Arts Centre in Belfast.
Holly Balentine, who attends Hunterhouse College, successfully auditioned for a place in the Bruiser Summer School for physical theatre, winning out to stiff competition from across the north of Ireland and is taking part in an intensive ten-day course.
The theatre school will end in a spectacular show where the students will perform before a packed audience at OMAC.
The girls and guys are training with some of Ireland's most experienced producers and directors, including Lisa May, Artistic Director of Bruiser Theatre Company and Ross Anderson, Artistic Director of Nor Nothin'.
Bruiser Director Lisa May said: "We're delighted to have such a talented group of young people for this year's Summer School. As a company, we've always looked at ways to develop and nurture tomorrow's talent.
"We're delighted that we can offer fantastic opportunities for young people interested in pursuing a career in the arts.
"The summer school is an amazing opportunity for young people to get professional, practical experience in the arts, giving them a real flavour of the demands of a professional actor. It's fun but hard graft and will result in an energetic public performance. "
The Bruiser Summer School Level 2 started at OMAC on Monday July 20 and ends with their group performance in OMAC on Thursday July 30. A new Bruiser Academy for graduates will be launched on Monday August 10, ending with a performance on Thursday August 20 at the Brian Friel Theatre, Queen's University.
If you would like further information, please contact Erika on 90235 053.
Ulster Star
31/07/2009