Huge 12th demonstration marks Lisburn's 400th anniversary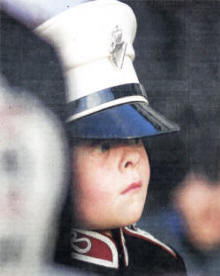 THOUSANDS of people will pour into Lisburn on Monday (July 13) to watch the South Antrim Combine 'Twelfth' demonstration as it makes its way through the city centre to the field at Ballymacoss. The host district Lisburn Number Six will form up at the Orange Hall at 10.45am and 'march along Wallace Avenue to the assembly point at Wallace Park where it will take position at the head of the parade on this, the 400th anniversary of the founding of Lisburn. Six other districts - Glenavy, Hillsborough, Ballinderry, Derriaghy, Magheragall and Aghalee - will also take part in the huge procession which will leave Wallace Park by the Magheralave Road entrance at 11.00am.
The city centre will echo to the sounds of drums, flutes, accordions and pipes as the parade proceeds along Railway Street to Market Square, Market Street and Smithfield.
The lodges will march along Hillsborough Road before turning on to Governors Road and continuing to Knockmore Road via Thiepval Road and Prince William Road.
The parade will then enter Ballymacoss Playing Fields via Limetree Avenue.
Speakers during the platform proceedings will include County Grand Secretary William Thompson, County Grand Lecturer Norman Bell and the Worshipful Mistress of Co Antrim Margaret Tollerton.
The Preacher at the religious service will be Rev. Stanley Gamble Junior, Lisburn District Chaplain.
The return parade will begin at 4.00pm making its way back to the City Centre via Limetree Avenue, Knockmore Road, Ballinderry Road and Longstone Street.
It will proceed down Chapel Hill to Bow Street, Antrim Street and Bachelors Walk. Finally, the lodges will make their way up Magheralave Road to North Circular Road where the parade will end.
Two official car parks will be available on Monday at Lisburn Free Presbyterian Church and Trinity Methodist Church. Admission to these will cost £8 and motorists are asked to park in them no later than 10.30am when roads will begin to close in preparation for the parade.
Early start for bands and lodges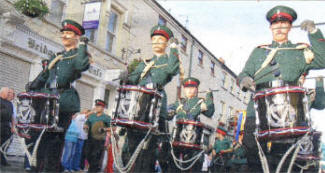 Taking part in the Mini Twelfth parade in Lisburn last Wednesday night.
BANDS and Lodges in the Lisburn area will be on the march for some time before the start of Monday's demonstration in the city.
The YCV Memorial Flute Band will march from Beechland Drive to Railway Street at 7.30am via Longstone Street, Chapel Hill, Antrim Street and Bachelors Walk. Lisburn Fusiliers Flute Band will leave Longstone Street at 8.30am and march to Rushmore Drive via Moira Road, Ballinderry Road, Causeway End Road, Causeway End Park and Drumard Drive.
Batesons True Blues LOL1925 will leave Causeway End Road at 10.00am and march to Railway Street via Longstone Street, Chapel Hill, Bow Street, Antrim Street and Bachelors Walk. Lower Maze LOL 111 will assemble at Ballinderry Road at 10.00am and march to the Orange Hall via the same route. Ballymacash LOL Number 317 will march from Orange Hall Lane to Railway Street at 9.00am while Sir Edward Carson Memorial LOL 1991 will leave Pond Park Road at 9.45am. Both lodges will make their way to the City Centre via Antrim Road and Bachelors Walk
Star of the Maze LOL 130 will leave Kesh Road at 9.00am and march to Gravelhill Road while Lower Maze LOL 111 will march from Ballinderry Road to the Orange Hall via the City Centre at 10.00am.
Duneight LOL Number 756 will leave Lisnoe Road at 9.30am for the long march to Railway Street via Ballynahinch Road, Young Street and Union Bridge. Lisburn Brunswick Star LOL Number 712 will also march across Union Bridge and up Bridge Street after leaving Hillhall Road at 9.45am.
Sprucefield True Blues LOL 1431 will leave Ravarnette Road at 9.5 0 am and march to the Hillsborough Old Road junction.
Glenavy District will march through the village at 9.00am before departing for Lisburn while Derriaghy District will leave its Orange Hall at 9.30am and march to Glenburn Road via Kingsway.
Fourscore True Blues LOL Number 340 will march to the centre of Glenavy from Tullyrusk Road at 8.30am via Garlandstown Road and Ballypitmave Road.
Ballydonaghy Temperance LOL Number 351 will hold a short parade to Ballydonaghy Bridge before travelling into Glenavy for the Glenavy District parade.
Drumlough True Blues LOL Number 423 will march from its hall to Drumlough Crossroads at 9.00am before proceeding into Hillsborough to parade through the village at 9.30am.
Ballygowan LOL Number 422 will march along Ballygowan Road from Ballygowan Orange Hall at 10.00am. Small parades will also take place in the evening as bands and lodges return from the main demonstration in Lisburn
Bands prepare
LISBURN Fusiliers Flute Band will march through the Avonmore Park and Drumbeg Drive areas tomorrow (Saturday).
The parade will begin at 1.00pm and end approximately 45 minutes later.
Tomorrow evening Aghalee Young Volunteers Flute Band will march from Rock Lane to the Orange Hall at 7.00pm.
The route of this parade will take in Soldierstown Road, Lurgan Road, Brankinstown Road, Ballycairn Road and Lurgan Road
L.O.L to join congregation
BALLINDERRY District L.O.L No.3 will join the congregation for morning worship in Ballinderry Parish Church on Sunday July12 at 11.30am.
The District and visiting Brethren will assemble at the memorial hall at 10.45am and proceed to the Parrish Church via North Street and Lower Ballinderry Road, accompanied by Roses Lane Flute Band and return by the same route at 12.45pm.
The service will be conducted by Mr. Jack Hassard and the preacher will be Bro. Rev. Canon Sam McComb.
Everyone will be warmly welcomed.
Disruption for motorists
POLICE are warning motorists of delays and diversions during Monday's parade in Lisburn.
After leaving Wallace Park at 11.15am it is expected to take about an hour and a half to pass any point.
The return parade will leave Ballymacoss Playing Fields at about 4pm.
Police say minor disruption in Lisburn can be expected from about 9.30 but the main disruption will be from about 10.30.
Ulster Star
10/07/2009