Hugo Duncan concert to raise funds for Diabetes UK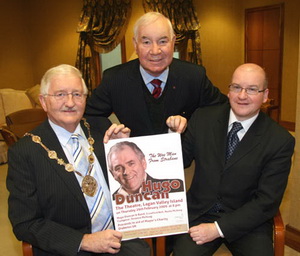 Organisers Colin Preen and Alderman Ivan Davis OBE are pictured in the Mayor's Parlour on Friday 23rd January with Lisburn Mayor, Councillor Ronnie Crawford as they make final arrangements for a Hugo Duncan Concert, proceeds from which will be in aid of the Mayor's chosen charity 'Diabetes UK'.
A Hugo Duncan concert in the Island Hall, Lagan Valley Island on Thursday 26th February at 8.00pm will raise funds for the Mayor's chosen charity Diabetes UK. The evening of great entertainment will feature the Wee Man from Strabane and his band, Crawford Bell and Nuala McAvoy. The compere will be Terence McKeag.
Tickets at £10 can be purchased from the Lagan Valley Island Box Office Tel No: (028) 92509254 or online at www.tickets.lisburncity.gov.uk
Bagpacking fundraiser at Tescos
On Saturday 31st January from 12 noon until 7.00pm, the Mayor and a team of willing helpers will be on hand to pack bags for shoppers at Tescos to raise funds for Diabetes UK.
Ulster Star
23/01/2009