Inter-community group meets up again after 20 years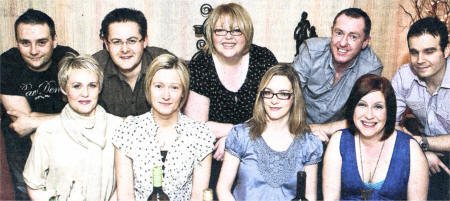 Members of Inter-Community Challenge, a group formed in Lisburn to bring people of both religions together, last week met for a 20th anniversary meal. After its formation, members of the group visited several different countries, including USA, to see at first hand how various other communities lived in harmony. US0809-508cd
MEMBERS of an inter-community challenge group that was formed 20 years ago in Lisburn have held a re-union. The group was formed In 1988, when the South Eastern Education and Library Board developed a two year programme which was open to young people throughout the board area and aimed to develop them as young adults while growing cross community friendships with the other participants from the area and then explore how communities lived together in other countries. Taken from local youth groups, candidates were interviewed before those who were successful were officially offered a place on the programme, the climax of which was a three week trip to the East Coast of the USA.
Over the next two years the lucky 14 were to experience many different opportunities - canoeing, camping in the Mournes, a lobster cookout and whale watching in Cape Cod, pot-holing in The Burren, County Clare. They even met presidential candidate, Michael Dukakis.
Andrea Leathem said that the memories created during their time on the project will last a lifetime.
She said: "Being part of the programme was a great opportunity which was made available through my membership of The Bridge Youth Club. I experienced so many activities and trips which would not otherwise have been available to me, and, of course, met a great bunch of people."
Among the participants in the group are Andrea Leathem, Laura Graham, Joanne Carey, Michelle Bunting, Mandy Hall, Jocelyn Andrews, Catriona Cameron and Neil Lucas. Others were Darren McKinstry, Sean Larkin, Neil McMullan, Nevin McCormick, Neil Irvine and Paul Tennyson.
Ulster Star
27/02/02009