£l0 million investment for International airport
by JENNY MONROE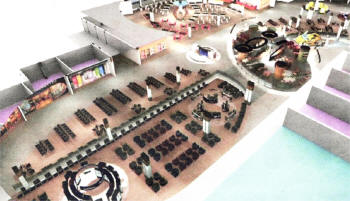 A MAJOR £10m investment for the International Airport at Aldergrove was announced this week.
Work on the privately-funded project will start immediately with the relocation of central security search to the departures concourse, a move designed to speed up passengers' journeys through the airport.
This will be followed by the construction of a new two storey glazed facade at the front of the terminal which will accommodate lifts, stairs and escalators to reach the departures concourse followed by a reconfiguration of the duty free area, creating space for over 20 retail, food and beverage outlets.
The development is scheduled to be complete by summer 2010 and brings to over £35 million the total amount invested in the airport in the last five years as part of an ongoing commitment to transform the look and feel of the airport and enhance customer experience.
John Doran, Managing Director of Belfast International Airport, says the redesign will make the airport more user-friendly by easing passenger flow from check-in to departure gates, and also significantly improve the retail and catering offer.
"Our exciting plans to improve the terminal building will transform Belfast International Airport. We will be creating modern, spacious and service-focused facilities designed to make the airport easy and convenient to use." Mr Doran is also quick to point out that the phased approach to the development means minimum disruption for passengers who are increasingly coming to the airport from all over the northern half of the island of Ireland.
"The construction will not affect the day to day operations of the airport and we will be taking all the necessary steps to ensure passengers are not unduly inconvenienced. We have carefully phased the work so that even during our busiest summer months, customers will not be adversely affected or delayed as a consequence.
"This new multi-million pound investment by abertis airports, our parent company, affirms our commitment to the people of the region."
Mr Doran adds; "It is important to note, given the-current economic situation, that not a single penny of the £10 million is coming from the public purse."
Antrim-based contractor Russell Simpson Construction is carrying out the construction work.
Ulster Star
08/05/2009