Irish singer lands on the Island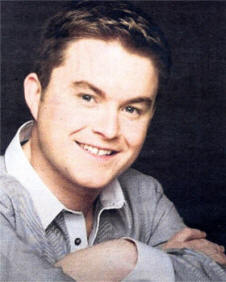 IRISH singer Michael English, who, under the management of Louis Walsh, has just released his album All My Life, will be performing at the Island Arts Centre on Friday February 6.
The youngest of three children from a very talented household, Michael English followed in his father's footsteps in becoming a musician.
From a young age Michael showed a natural talent on the piano and he was enrolled at the tender age of nine to the Hennessy School of Music, Carlow. His time at the school broadened his confidence and he successfully entertained local audiences with his music. However Michael knew his talent could captivate a wider audience and at eleven years of age he wrote to Gay Byrne asking if he could appear on the Late Late Show. Performing a song he had written himself, the young protégé's performance received a rapturous response. He recalls that on the day he was 'a huge bag of nerves', but after the performance he intuitively knew that this was what he wanted to do with his life.
Michael eventually left his studies at the Hennessy School of Music and went on to study piano under the Royal Academy of Music Dublin. In 1997 Michael went to a 'Big Tom and the Mainliners' concert and was spellbound by their audience rapport and showmanship. He decided to approach the band leader, Henry McMahon, about his aspirations. Impressed with Michael's enthusiasm, Henry decided to give him a song he had written, entitled 'The Nearest to Perfect'. Michael immediately fell in love with the song as he instinctively knew that it would properly showcase his musical and vocal talents. In the coming months he worked extensively to raise the sufficient funds to record and release the song as his debut single.
True to his hunch the song became a massive hit and went on to sell in excess of 30,000 copies in Ireland alone. This amazing success garnered the attention of Rosette Records, where he was immediately signed to a recording contract and soon after released his first album. The debut album, also titled 'The Nearest to Perfect', achieved over platinum sales in Ireland alone. Michael went on to release two more successful albums through Rosette Records.
In the summer of 2008 and under the tutorship of Louis, Michael released an album of well-known songs titled; All My Life. It is a beautiful collection of 16 classic songs by artists such as Foster & Allen, Eddy Arnold, Colin Raye and many more. Produced by the legendary Nigel Wright (Barbra Streisand, Jose Carreras, Sarah Brightman), the album includes duets with renowned Irish singers Daniel O'Donnell and Linda Martin, showcasing Michael's superb and versatile voice.
For further information or to book tickets, priced £20, contact the Island Arts Centre Box Office on 9250 9254.
Ulster Star
23/01/2009