`A wee boy with a big heart'
Linfield Academy form a guard of honour for teammate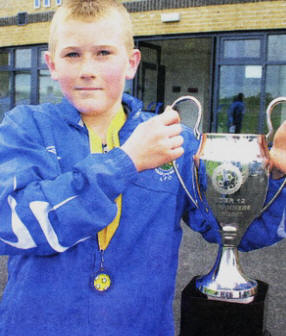 LINFIELD Academy team mates of James Elliott formed a guard of honour at a Thanksgiving Service held on Thursday for the 14-year-old who was swept to his death last week.
James died following a tragic accident last Thursday when he was out with friend Stephen McGregor along the River Bush. The boys tried to rescue a dog after it fell into the river. Stephen managed to grab onto a branch and haul himself to safety and he ran to James's father Clive who rushed to the scene and dived in to try and find his son. Despite a frantic search James could not be found.
Two days were spent attempting to locate James as a rescue operation was carried out by Ballycastle and Coleraine Coastguard as well as a Royal Navy Search and Rescue helicopter from Prestwick in Scotland as well as two PSNI helicopters. David Chisholm, Co-ordinator of Linfield Academy said when he had heard of the drowning accident and that a 14-year-old boy was feared drowned in Stranocum, he feared the worst.
James had been a member of the Linfield Academy for four years and he was described as a 'reliable,' 'loyal' and 'passionate' young boy who never complained about travelling to join his Linfield colleagues three times a week for games and training sessions.
"We have young boys who travel from various parts of Belfast but James never complained about travelling and in fact so keen was he, he would have been there 20 minutes early," said David.
"If you had asked him to do goals he never complained. That was the type of person he was."He had a superb character, he was what the country folk would call a 'good 'un.' He had a real commitment for the game and passionate and very loyal to the club."
During his four years at the club James played against English teams like Tranmere, Everton, Newcastle and Sunderland and was also a member of the County Antrim Elite Squad. He joined as a player with 'lots of potential' through recommendation from another parent.
Described as a model player he trained with the club at the Olympia Leisure Centre, and was one who was 'committed' and 'passionate' about the sport:
David said that James's death will be difficult to take in for the many players and staff of Linfield Football Club.
"It has been difficult for us. Last Wednesday he was with us training and the next day, this happened," said David. "He would have grown into a really good man and a really good person.
"It is just hard to believe. Saving a dog was just the type of thing James would have done. He was a wee boy with a big heart. "He had a good future in football with lots of potential. He would have been playing for one of the top clubs, if that is what he
Ulster Star
28/08/2009