Celebrating a hero of children's rights in Lisburn exhibition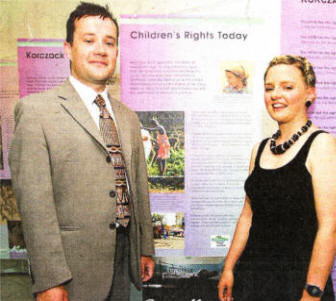 Councillor David Archer, chair of the Leisure Services department, and Vicky Johnston, from the Young At Art organisation, looking over a new exhibition entitled Champion of the Child at the Island Arts Centre. US2609-559cd
AN EXHIBITION telling the story of a hero of the Warsaw Ghetto has gone on display Island Arts Centre in Lisburn backed by Northern Ireland Commissioner for Children and Young People (NICCY) and Young at Art.
'Champion of the Child' reveals how Janusz Korczak, a Polish pioneer of children's rights, devoted his life to establishing the rights and wellbeing of children, regardless of nationality or religion.
The exhibition features illustrations by internationally established artist Itzhak Belfer, one of the children saved by Korczak.
The Island Arts Centre is the final venue of the touring exhibition, which has brought the message of children's rights to children and young people across Northern Ireland since its launch earlier this year.
Children's Commissioner Patricia Lewsley said she was delighted to work alongside Young at Art to bring the story of Janusz Korczak to children and young people in Lisburn.
Writings
"Korczak's writings and ideas on the subject of children's rights were adopted by the UN Convention on the Rights of the Child (UNCRC)," said Ms Lewsley.
As this November marks the 20th anniversary of the UNCRC, I see no better way to kick start the celebrations than by giving children and young people the opportunity to explore the story of one of the first advocates of children's rights."
To accompany the exhibition, the two organisations have developed a drama workshop facilitated by NICCY's participation officers which explores and conveys the concept of the UNCRC to children and young people in Northern Ireland.
To book a workshop contact Young at Art on 9023 0660 or for more information on 'Champion of the Child' visit www.belfastchildrensfestival.com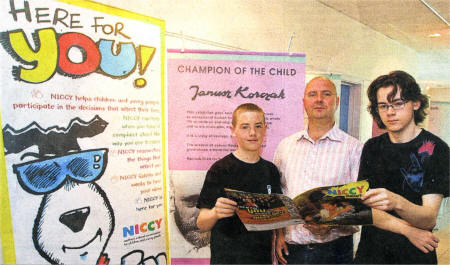 Ken Smyth, participation manager at the Northern Ireland Commissioner for Children, with Andrew Curly and Gerard O'Donnell, from the Young At Art organisation, looking over a new exhibition entitled Champion of the Child at the Island Arts Centre.
US2609-560cd
Ulster Star
10/07/2009