CELEBRATING A LIFE FILLED WITH COLOUR
Funeral filled with `all the colours of the rainbow'
by JULIE ANN SPENCE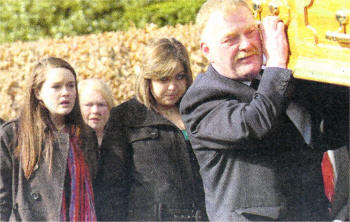 FRIENDS and family gathered at St Patrick's Church in Jordanstown on Wednesday to celebrate the life of Lisburn woman Jennifer Buchanan who died tragically in Romania last month. As a tribute to a woman who brought colour to so many lives, everyone at the service dressed in bright clothes, just as Jennifer (54) would have wanted.
She was killed in a brutal assault in Romania where she had been staying since December. She had been on sick leave from her job as head of careers in Glengormley High School for 18 months. A man has been arrested by police in connection with her death.
During the service, loved ones heard Rev Nigel Baylor pay tribute to a woman who was not only a dearly loved mother and daughter, but a woman who changed many lives in her role as a careers advisor at Glengormley High School.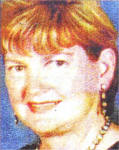 Jennifer Agnew grew up in Lisburn, a former pupil of Ballymacash Primary School and, as the congregation heard, it was during her time at Friends School Lisburn that she met her future husband Ian Buchanan who is now a GP at the Castle Medical Practice in Carrickfergus. "Today we recall the real Jenny Buchanan, the person God and her family and close friends knew her to be," said Rev Baylor.
"Jenny and Ian were from Lisburn originally and in fact they met at Friends School Lisburn, where Ian recalls that Jenny was a Prefect in his time.
"That friendship deepened into love and they were married in Magheragall Parish in August 1978. Jenny began her teaching career at Glengormley High School in that year," he continued.
"Jenny threw herself into a career of teaching at Glengormley High School and taught French and English at one time, as well as specialising in Special Needs before taking on the very important task of Head of Career Guidance."
While Jennifer was highly regarded in school and loved her job deeply, it was her family that was the light of her life.
"The people who were most important to Jenny were of course her family, and not least Ian and their daughters Jennine and Jessica," continued Rev Baylor.
Jennifer also had a love of nature, as her friends and family will remember.
"Jenny loved flowers and plants and loved to paint," continued Rev Baylor. "She loved colours and for her, life was not black and white, but full of all the colours of the rainbow.
"Jenny was a special person, a real 22 carat personality whom it was a joy to have around." Following the moving service, Jennifer was laid to rest at Carnmoney Cemetery East.
She is survived by her husband Ian, daughters Jennine and Jessica, mother Jessie and brothers Thomas and Ian.
Funeral reflected most important aspects of Jennifer's varied life
JENNIFER'S funeral service brought together the most important aspects of her life - her family, her work and her love of colour, nature and music.
According to Jennifer's wishes, everyone at the service was dressed in brightly coloured clothes and her coffin was adorned with one of the most brightly coloured flowers in nature, the Bird of Paradise, also one of Jennifer's favourite flowers, as well as a beautiful heart-shaped bouquet from her mother.
During the service one of the hymns song was, appropriately, All Things Bright and Beautiful'.
Jennifer's two beloved daughters, Jennine and Jessica, bravely spoke from their hearts about their love for their mother.
There was a Bible reading from one of the teachers at Glengormley High School and Jennifer s sister-in-law, Jennifer Agnew, read Psalm 23 'The Lord's My Shepherd'. Two violinists played during the service, with a lone piper bringing the emotional yet beautiful service to an end.
julieann.spence@ulsterstar.co.uk
Ulster Star
06/03/2009