Jim's on the road to Hell in a 99 year old car
by MARY MAGEE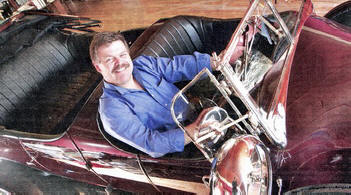 ROLLS Royce enthusiast plans to go to Hell and back....literally. Jim Black (46), from Ballinderry, who embarked on a European journey in a restored vintage car two years ago has set out on another epic journey. Jim says he simply wants to test drive his latest newly restored vehicle, but this will be no ordinary spin as he will be at the wheel of a 1910 Silver Ghost which was fully restored in June all the way to Norway.
This drive will take him on a 4,000 mile round trip to a tiny village Stjordal - which means Hell.
Jim will spend two months touring Scandinavia in the car which has already won awards at major Rolls Royce shows in England and Cork.
His last adventure was in the summer of 2007 when he set out to drive his 1924 Rolls Royce to Israel but had to turn back in Greece after running into raging fires.
And while he's just set off on this journey, which could take up to two months, Jim is planning another trip with a 1919 Rolls Royce 'Moon Car' - an armour plated car which was once used by the IRA and had twin Lewis machine guns attached to it.
Jim says of his latest journey: "This is just another excuse to get out in the car and give it a little test drive. I am at a car rally at the moment in Denmark and before I reach Norway I will have to leave the car and fly back to Cork to drive a Rolls Royce at a wedding. Then I'll return again to finish off my journey.
"I have had no problems with the car. It misfired a little when I was in England but I was able to sort that out. She should get through the journey ok - when I get to Norway I will probably be faced with some frost but the car should be fine."
The restoration of the car was carried out by East Coast Custom in Lisburn, Lesley Gamble, and Trevor Allen.
Ulster Star
28/08/2009