John de Lorean and the Dunmurry connection
by LAURA ABERNETHY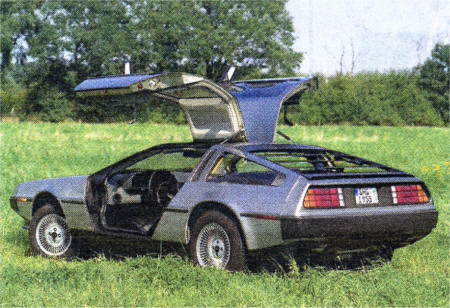 The legendary DMC-12 which was produced in Dunmurry
IT could be a case of going Back to the Future for residents of Dunmurry as reports suggest a movie based around John DeLorean and his ill-fated manufacturing plant in the village is being planned. Three separate production companies in Hollywood are said to be competing for the chance to produce the story of the flamboyant American car maker whose 'gull-wing' sports car became immortalised in the 'Back to the Future' films before claims De Lorean had been organising a massive cocaine deal to save the company.
He was acquitted of the charge, but the Dunmurry plant was closed with the loss of almost 3,000 jobs.
De Lorean had made his reputation as a star at General Motors in the 1960s and resigned in 1973 to set up the engineering firm which created the famous DMC- 1 2. He approached the Northern Ireland government with a plan to build the brand new sports car in Dunmurry then export it to sell in the US.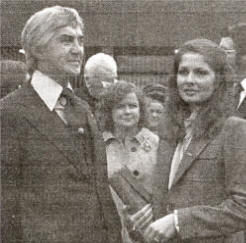 The factory was opened in 1978 in an attempt to create jobs and at its peak employed nearly 3,000. But intense competition in the sports car market and the high price of $25,000 led to lack of demand for the specialized car leaving the workers on the dole and only 9,000 DMC 12 cars in the world.
With the help of around £100 million of money from the Northern Ireland Development Agency, the plant began to roll out the stainless steel DMC12
The enterprise was later described as "one of the gravest cases of the misuse of public resources" by the Public Accounts Committee at Westminster.
Although DeLorean was cleared of the drug charges in 1984, after his lawyer said agents had lured him into a position that made it look as if he had committed a crime, the association with the organisation of a massive cocaine deal left his reputation in tatters. When asked by journalists if he was bitter about the damage done he said: "Would you buy a used car from me?".
One of the three companies bidding to make the movie about DeLorean, who died in 2005 aged 80, Time Inc studios said they will use investigations into the motor industry tycoon including his unpublished autobiography which details his personal affairs including his four marriages and affairs with several stars. The story was described as "an updated Citizen Kane story of the great American entrepreneurial hero, and how it went wrong" by one of the producers, Nick Spicer.
But there is nowhere a film is going to be more keenly viewed than in the area where the factory seemed set to bring new hope.
Ulster Star
19/06/2009