Tributes to young woman 'who lifted hearts and spirits'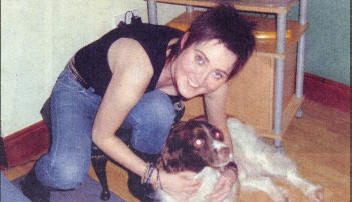 THE colleagues of a Lisburn beautician who has passed away at the age of 29 have paid tribute to their esteemed friend.
Staff at Penelope's Beauty Salon say the death of Joni Crowe, a former Manageress of the firm, has left an empty space in their lives.
Joni died in March following a long illness.
She was described by her boss Penny Doherty as "a very special colleague who was always so full cheer and happiness, lifting the hearts and spirits of those around her - even on the darkest days". Penny explained that Joni learned several years ago that she was seriously ill. She said Joni received the news "philosophically" and took a "very positive attitude which endured to the end". "When she had to give up give up her pink car she decided to embark on her travels - something she had always intended to do," said Penny.
"Joni was an outstanding beauty therapist here where she built up a large clientele who will be saddened at the news of her passing.
"Joni was a very special and faithful friend who bore her illness with tremendous courage and her gentleness and kindness to all radiated from her. The affection in which she was held was shown by the large numbers of people who attended her funeral in Larne Mission Hall," said Penny.
She continued: "Our deepest sympathies to her beloved mother Margaret and her loving family she leaves behind. Her Springer Spaniel Dog Pongo was by her side until the end and was even permitted to join in the funeral procession after the service at the house.
"Joni, we will miss you terribly."
Ulster Star
03/04/2009