DJ turns up the heat at the big summer party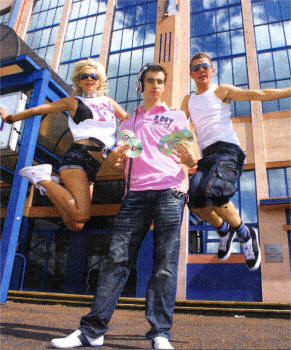 A LISBURN teenage DJ is set to perform to over 3000 people at Northern Ireland's biggest under-18 summer party, Inferno, set to take place in Belfast next month. From its small beginnings in a parish church hall just under a year ago Inferno, Northern Ireland's premier teen event will take over Nugent Hall situated in the King's Hall Complex, Belfast on Saturday August 15.
The music based summer party will play host to three of Northern Ireland's most promising young DJs. Nathan Callaghan and David Ashe from Belfast and Jonnie Graham from Lisburn, who are all under 18, have performed to sell-out crowds in venues across Northern Ireland. Together they will perform alongside Cool FM's Paul Kennedy, and local radio personality Neal McClelland and youth dancing sensations Dance FX.
Lisburn based lad Jonny Graham, 17, has had a passion for music from a young age and recently has played at The Mandela Hall and with Micky Modelle at Coast in Newcastle. Jonny has also presented shows with BFBS Radio based in Lisburn. Creator of Inferno, 23 year old Chris Hughes set up the under 18 events in a 300 capacity parish hall, initially for his 16 year old sister, Michaela and friends after discovering there was a severe lack of social activities for their age group."After some research and talking to groups of teens I decided to organise an event whereby groups of teenagers from across Belfast and the surrounding areas can come together, enjoy the music and entertainment acts in a neutral venue at an affordable price", commented Chris. "There are approximately 150,000 13-18 year olds living in Northern Ireland with dangerously inadequate sources of leisure activity especially in the evenings.
"The obvious direct result of this is the risk of anti-social behaviour and underage alcohol abuse. Our previous events have seen an unprecedented amount of interest so we have moved to a bigger capacity venue for safety and comfort."
Tickets for the King's Hall event are available from Ticketmaster venues; Eason's, Donegall Place, Belfast as well as the Odyssey Bowl priced at £10.
Ulster Star
07/08/2009