A self referral breast screening may have saved Karen's life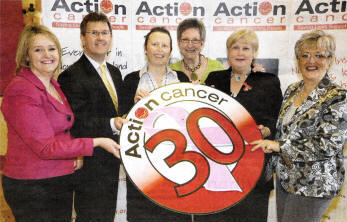 KAREN Blythe, who is currently battling cancer, knows the importance of breast screening.
Karen (44), from Haddington Hill, in Lisburn went for a self referral in 2006 soon after her younger sister Sandra McIlroy was diagnosed with breast cancer at just 39.
Karen neither smokes nor drinks and expected to get the all clear. She never thought she would get the news that would change her life. In May 2006 she and another sister went to Action Cancer at Marlborough House for a screening. After further tests at the City Hospital it was discovered that she had an asymmetric density on her breast.
For the next few months Karen and sister Sandra supported each other as they both went through courses or radiotherapy and chemotherapy. Karen also had to undergo a partial mastectomy. "In a way it was comforting because we knew what the other one was going through," said Karen. "We both found comfort in that and we could talk to each other about what we were going through."
It was early 2007 before Karen had the strength to return to work as a production planner at RFD Beaufort in Dunmurry.
Then a year later in April 2008 Karen's life fell apart when she discovered a lump on her chest and went to the doctor to get it investigated.
Initially it appeared nothing to worry about but a biopsy and scans discovered her breast cancer had spread to her chest wall and both her lungs.
She had to undergo six courses of chemotherapy, which this time took a such a toll she refused the final course.
During this time Railway Street Presbyterian Church helped to raise funds to allow Karen to go to Mexico for a holistic cure.
After the chemotherapy had finished it was discovered that the tumour was still there and the lump had to be removed.
"I have been told that I will just have to live with cancer for the rest of my life," she said.
But determined that cancer will not beat her she went on a further trip to Mexico to follow a method that encourages a change in lifestyle and diet.
She feels the holistic approach has definitely helped as the cancer has not spread further, though next Monday she has to undergo surgery to have the lump removed.
"I have spoken to people who have had the same treatment and were told that they had just 18 months to live and they are still fighting fit," she said "I just have to think positive. I have been told that I will have to live with cancer for the rest of my life. I want to be still here with my two children Kate Lynn and Sophie in 20 to 30 years time..I'm not giving up hope yet."
And she is certain that self referral can save lives.
"More and more women are being diagnosed with breast cancer in their 30's 40's and 50's, its incredible" she said. "I don't smoke or drink and I get cancer. My older sister smokes and drinks and she gets the all clear." She feels more women should avail of breast screening at Action Cancer. Te facility is there, women should use it,' she said.
Breast cancer survivors celebrate 30 years of screening service
ACTION Cancer has marked the culmination of its campaign marking 30 years of breast screening with a special event at Stormont.
Assembly members had the chance to meet with 18 women who have survived breast cancer and who reinforced the message that early detection saves lives.
The 18, who are community ambassadors for the Action Cancer breast screening service, came from every constituency. They encouraged women in their locality to self-refer for screening if aged 40-49 or 65 plus at Action Cancer and also to attend for screening when invited by the NHS.
One thousand women a year in Northern Ireland are diagnosed with breast cancer and just under 300 lose their lives to the disease every year.
Local woman Joan McLaughlin said: "As ambassadors for Action Cancer, we have been telling neighbours, friends, colleagues and relatives of our experience and encouraging them to be proactive with their health and get screened. It took just 10 minutes out of my day for the mammogram and it saved my life."
The charity offers appointments to 1100 women every month, detecting on average seven cancers each month. There are 125,000 women aged 40-49 in Northern Ireland and 138,000 women over the age of 65 who are eligible for the charity's screening service but many may not be aware that it exists. Anyone interested in obtaining an appointment should call the Action Cancer appointments line on 9080 3344 to obtain an appointment in Action Cancer House or on the Big Bus when it next visits the area.
Ulster Star
10/04/2009