Community stunned by death of a 'special girl'
by JENNY MONROE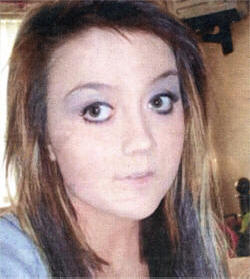 THE teenage girl whose sudden death has shocked the local community was the light of her mother's life, mourners at her funeral have been told.
Kerry Moulds, of Drumlough, was described by the Rev John Davey as an intelligent girl who was "lovable" and "trustworthy".
The 14-year-old's body was found in Hillsborough Forest Park by a member of the public last Thursday morning.
The Year 10 pupil at Dromore High School had apparently taken her own life.
At her funeral service in Hillsborough Presbyterian Church on Monday the Rev Davey said Kerry was "special". To her mother she was "the light of her life".
Rev Davey talked about Kerry's many fine qualities - "a remarkable gift for friendship, intelligent, caring -both for people and for animals."
He explained how her life began with severe obstructions in her bowel which led to liver failure and at one stage it was thought that she would need a liver transplant. But things turned round and Kerry came through it all to be "the warm human being we remember today".
"Life presents us all with problems from time to time. Some of us overcome them and some of us are overcome by them" he said. "Life is full of questions. Some of us find answers which satisfy us, others have questions they never resolve.
"You and I will never understand all that happened in Kerry's young life, what she was thinking about, what mace her do it, but we do know that Jesus has prepared a place with him for ever for all those who name him as their Lord and Saviour."
Rev Davey told the congregation that in John's Gospel, Lazarus, the brother of Mary and Martha, has died - and Martha blames Jesus.
"'If you had been here, my brother would not have died.' So today, many people will be asking 'Who's to blame?' Is this all God's fault? Did God abandon Kerry to her inner darkness? Or is it somehow my fault? Who's to blame?
"Friends, that line of thinking is worse than useless. Indeed it makes things worse. Instead of pointing the finger, let us recognise that Kerry's death is tragic, untimely and unfortunate. But so is death from heart disease, or lung cancer, or traffic accident or as a result of war or terrorism. Death is unwelcome, whenever or however it comes. "To help us deal with the reality of death, and Kerry's death in particular, we need to, we must, be supportive of each other and especially of Kerry's family. In coming days, Hilary, Harry, Bruce, Stephen and Karen, Roy and all the family circle will need our love. We must not add to their suffering by making them endure it alone."
Moving tribute to 'funny, lovable, caring' friend
"Best Friends Forever."
If I could catch a rainbow
I would do it just for you
And share with you its beauty
On the days 'you're feeling blue
If I could build a mountain
You could call your very own
A place to find serenity
A place to be alone.
If I could take your troubles
I would toss them in the sea
But all these things I'm finding
Are impossible for me.
I cannot build a mountain
Or catch a rainbow fair
But let me be — what I know best
A friend that's always there.
KERRY'S best friends paid their own tribute to the girl in whose company there was 'never a dull moment'.
The tribute by Amy Robinson, Hannah Morrow, Vicky Napier, Megan Jess and Demi-Louise Davis was read at the funeral by the Principal of Dromore High School Mr John Wilkinson who first paid his own tribute to Kerry on behalf of the school.
He said the school community had been 'numbed and deeply affected by Kerry's passing'.
"Kerry was a bright, top band student and loved by many both inside and outside the school' he said.
"She had many friends — but especially Hannah, Arnie, Megan, Vicky and Demi-Louise — and this is what they wanted me to say today.
"In Kerry's company, there was never a dull moment. From the laughs to the cries, those memories will stay with us forever. We will always remember her as the funny, lovable, caring, trustworthy, fun-loving person she was. She lit up the room with her smile, and her laugh would ring in the ears of a person forever.
"The smallest things trigger our biggest memories, but those memories will make us smile every time we think of them, and we will always remember those big brown beautiful eyes. Kerry had the ability to make us all feel like we were the most important people in the world, and never failed to show us how much she loved us."
The friends then passed on some of their special memories, recalling how Kerry was the 'queen of pulling different faces for different occasions'.
"All of you who knew Kerry well would know her laughing face; she was the only person we knew who could laugh with her mouth wide open and her sharp tooth sticking out. A number of months ago Kerry got her tongue pierced and she quickly developed a 'lets-show-off-my-tongue-bar-face' to everybody who would watch.
"One of our favourites was when she pulled the 'feel guilty for me' face this was when she wanted to borrow our money, clothes, food etc and she used her big brown puppy dog eyes - it got us every time."
The congregation heard Kerry's least favourite subject was PE. "However, our PE gang made PE more fun as it was always Kerry, Demi, Hannah, Amy and Megan over in the corner, sneaking a sun bath to top up the tan" they said.
"In Kerry's class 10H she was the centre of all the laughter and always had her ways to cheer each person up. She had time for everyone and was a great believer in including everyone. She really did love her class and the people in it.
"Harry and Bruce, although you and Kerry had your arguments as brothers and sisters do, she always talked about you and looked up to you as role models because she loved you both."
Turning to Kerry's dad, they said: "Steven, after the North-West, Kerry's latest quote has been to call the motor-bike van 'the vein!' This always made us laugh because we knew she only said it like that because everybody else at the north-west did."
And to her mum. they said: "Hilary, Kerry was so proud of poem she wrote about you in English she never failed to talk about it when she had the opportunity and she always let us know that she thought the world of you."
They picked out a poem called Rainbow which they said 'represented our friendship together.
"She will always be our friend remaining in our hearts and minds and we will always be grateful for the impact she had upon our lives. Love you always.
Ulster Star
19/06/2009