Local people help make a difference in Romania
| | |
| --- | --- |
| | |
| Orphans from Potters House in Timosara who received gifts from generous local people. | Jill McNeely from Lisburn is currently working in the Romanian orphanage. |
LISBURN Cathedral and Hillhall Outreach Church have thanked all those who helped supply items for a Lisburn couple to take to orphans and villagers in Romania.
Last year Phil and Wendy McConnell travelled to Romania to visit Potters House in Timosara, through the charity Chosen NI led by Andy Fleming. The couple saw first hand the conditions the children live in and took with them items of clothing and lots of art and craft materials to the children who come from difficult backgrounds.
This is the second year support has been given and this time charity shoe boxes, clothing, blankets and bedding were collected.
The children of Kidszone, Lisburn Cathedral happily decorated the. shoe boxes for the Romanian children.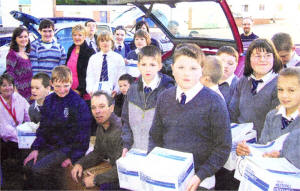 The response to the appeal was overwhelming and special thanks has been given to Reid's Shoe shop, Speers Clothing, Nicholson House (Ruth Johnston), Lisburn Care Home (Karen Moriarty and Lorraine Wylie), Beechlawn School (Principal Mr Acheson and Mrs Stewart), Hillhall Outreach Church, Lisburn Cathedral, the creative ladies who knitted, crocheted and sewed items, Ionad na fuiseoige linked to Scoil Na Fuiseoige, Karen O'Brien, Mrs Irene McGowan who knit 100 teddies as well as bonetts, Canon Sam Wright and Billy Moore. Thanks to the generosity of local people the orphanage and six villages benefitted greatly. Links are ongoing and the team hope to provide some practical support for the summer camps and youth camps this year. Jill McMeely from Lisburn is currently working at the orphanage.
If you are interested in this work and would like to know more please call 9260 2400.
Ulster Star
06/03/2009