Historic Lisburn graveyard now fully restored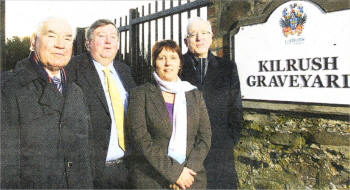 WORK has been completed on a restoration improvement scheme of Kilrush Graveyard, one of the oldest in Northern Ireland and the public can now go and see it.
Situated to the back of the Council's main civic building, Lagan Valley Island, the earliest date of memorials is 17th Century.
No remnants of a Church are known, but the Northern Ireland Environment Agency have suggested that there would likely have been a Church on the site at some time 17th or 18th Century.
Over the last number of years the Lisburn Branch of the NI Family History Society have worked to produce a permanent record of gravestone inscriptions in Kilrush. Councillor Allan Ewart, Chairman of the Council's Economic Development Committee said: "Prior to restoration many headstones were old, worn and damaged and grave surrounds were in a dangerous state. This project will prevent any further loss of heritage and open up the site so that it becomes an asset for the local and wider community."
Councillor Jenny Palmer, Vice-Chair of the Committee added: "The site was not used or valued by the local community. In its previous state of dereliction and disrepair it attracted people for the wrong reasons.
"The project involved a number of different jobs in order to make it more accessible to both the people of Lisburn and visitors. Damaged headstones were cleaned and repaired by professionals. The high stone wall which runs along the side of the graveyard had to be built up and restored and is now an attractive feature of the site.
"Some of the iron grave surrounds were also repaired in keeping with the original design. Paths have been developed along the traditional lines of movement between graves allowing people to walk around the graveyard more easily."
Mr Ewart concluded: "The project will now provide a safe green space in the City Centre where everyone can enjoy peace and solitude while appreciating the historic significance of the site and its links to Lisburn City Centre, the Linen Industry and the Lagan Navigation." If anyone would like access to the graveyard they can contact Suzanne Lutton, Lagan Corridor Regeneration Manager on 92509485 or email suzanne.lutton@lisburn.gov.uk.
Ulster Star
20/03/2009