Knockmore Primary celebrates 40 years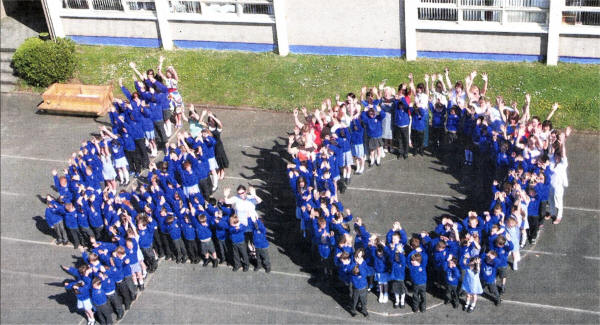 Pupils of Knockmore Primary School line up to form the number 40 to celebrate the School's 40th celebrations. US2309-141A0 Picture By: Aidan O'Reilly
IT was the year that Concorde broke the sound barrier for the first time, Richard Nixon became President of the United States and Neil Armstrong took his historic 'giant leap for mankind' by stepping on the moon.
And 1969 was the year Knockmore Primary School opened its doors to the community for the first time.
As the school celebrates its 40th anniversary, a fun day will place this Saturday June 6 at 10am, and a new learning Resource Room will be opened for the children and wider community. All 150 children currently attending the school joined the staff to form a huge '40' in the playground this week to mark the 'school's birthday.
Acting principal Clive Anderson said: "Over 40 years Knockmore has had five principals and as acting principal for the last two years I have had the privilege of leading a fully committed team who at all times ensure high standards of teaching, learning and pastoral care are provided for the children within their charge."
He continued: "At Knockmore Primary School we aim to prepare children for life in tomorrow's world. We believe that parents require more from a school than they did in the past. Teaching the 'three 'r's, whilst still important, is now only one part of what we do. As well as teaching the academic subjects, our curriculum includes: Personal and Social Education, Citizenship Education, Health Education, Drugs Awareness, Mutual Understanding and Thinking and Learning Skills."
Mr Anderson described how the school has changed over the years. "In 1969 computer technology in schools was non existent but with it now affecting all of our lives in an increasing number of ways, we have equipped our new classrooms to enable children to exploit modern technology to assist their learning, to develop their learning skills, to learn how to make moral choices and to learn how to find information and use it for themselves," he said. Knockmore Primary School has been serving the Lisburn community and beyond since 1969. This year we have commenced ICT evening classes and English classes to our friends in the community who have English as a second language.
"Our children from P1-7 benefit from many after school activities such as football, netball, hockey, cookery, extra tutoring classes, Good News club and Story Club. They also benefit from many educational visits, which take place throughout the year.
"Over the 40 years we continue to maintain a proud heritage, along with a reputation for providing opportunities for every child, irrespective of religion, race or creed, to discover their true potential and experience success."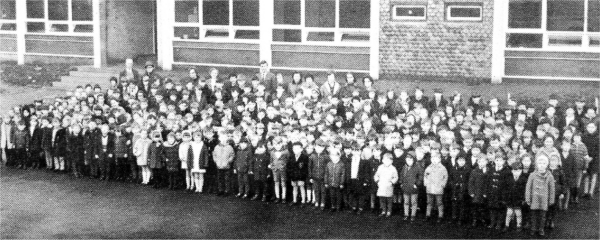 Pupils at Knockmore Primary School in 1969
Principal is left hanging around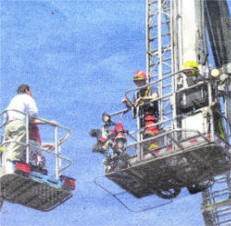 PEOPLE may not realise just what lengths the acting principal of Knockmore Primary School had to go to in order to get this super picture for their anniversary celebrations. For when Clive Anderson hired a cherry picker from a local company so the Star photographer could get a great shot of the children in the shape of a '40' he could hardly have thought he would end up having to be rescued from it by the Fire Brigade! When our photographer had left the school on Tuesday morning Mr Anderson and his vice principal Sharon Shannon decided to take advantage of the machine to get a rare birds eye view of the school grounds. Mr Anderson was assured it was safe for two people to go up in the basket but no sooner had they soared into the air, with Mr Anderson controlling the machine from the basket, when it stopped. He used a walkie talkie to alert his secretary who rang the company the vehicle was hired from and then the local fire station.
Firefighters and officials from the company were quickly on the scene, but since the fire engine only had ladders a call was made to a Belfast fire station who arrived at the school with specialised equipment. And after two hours in the air, firefighters with a special basket and safety belts brought them back to earth.
Whether the situation was serous or not, many of the children at Knockmore seemed to see the funny side and took great delight in taking pictures of the stranded teachers.
"There were many photos taken and children were hanging out of the window to see us," said Mr Anderson. "There was no major panic but it was certainly an eventful day that we won't forget in a hurry. We knew the fire officers would take care of the situation and I would like to praise them for their hard work and professionalism in how they dealt with the matter"
Ulster Star
05/6/2009