`WHY DID THE DOCTORS NOT HELP ME'
Family's distress after son's operation is cancelled six times
Kyle's brain operation put off six times
by STACEY HEANEY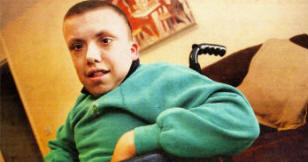 DISABLED Lisburn boy who is awaiting brain surgery at the Royal Victoria Hospital is hoping to finally have his procedure this weekend, after his operation was cancelled six times.
Despite Health Minister Michael McGimpsey reaffirming just a month ago the "need to ensure that no further anxiety is caused", 16-year-old Kyle Conway and his family have been left distressed after they were sent home from the hospital yet again last Friday morning, when no suitable anaesthetist was available to carry out the procedure.
Kyle, who has Costello Syndrome, a rare disorder with just 200-300 cases worldwide, requires the surgery to remove part of his brain which is growing into the back of his neck, blocking his windpipe and causing him to choke when he eats.
Kyle, a pupil at Parkview School, was seen by an anaesthetist at the hospital last Thursday evening who went through the operation details with his father Patrick. However, the next morning Patrick was informed only a fourth year student anaesthetist was available and the consultant was not happy for the procedure to continue. The Lisburn family, including mum Caroline and sisters Pauline and Tara, will now have another anxious wait this weekend with Kyle scheduled to have surgery on Sunday. Patrick commented: "For it to be cancelled six times is ridiculous. It is not fair on the child, who is constantly getting built up to go into hospital.
"We are all worried about the procedure, especially with it being an operation on the brain, so we are all upset."
Lagan Valley MP Jeffrey Donaldson has been liaising with the Health Minister on the family's behalf and the latest cancellation came despite the Department of Health being given assurances by the Belfast Trust that "the Trust is in the process of arranging a firm date for Kyle's surgery".
Patrick is now concerned whether this weekend's operation will take place. He said: "You are always on tenterhooks whether it will go ahead."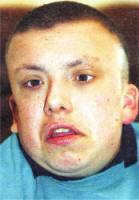 Explaining Kyle's condition, Patrick said: "His brain is growing faster than his skull and it has no room to expand so it is growing into his neck, making him constantly
choke. It is all linked to his Costello Syndrome.
"Kyle understands what the operation is for and that it is to help him, but after all that has happened he now asks us, 'Why will the doctors not help me?'
"He is a happy-go-lucky fella and will not get down too much, but now he thinks the doctors don't want to help him. Even his teachers at Parkview have noticed a change in him."
Mr Donaldson said the latest cancellation of Kyle's surgery was "totally unacceptable". "Given all that Kyle has suffered and the added stress he has been caused by continued delays in making arrangements for his operation, this most recent episode is totally unacceptable" he said.
"For this young lad to go up to hospital in the expectation that his surgery would be carried out only to discover once again he was to be dispatched home is a very stressful situation.
"Whilst we now have a further date for the surgery to take place, we can only hope the operation will proceed as planned for Kyle to get the treatment he needs to improve his health."
A spokesman for the Belfast Health and Social Care Trust said: "The Belfast Trust would like to apologise to Mr Conway and Kyle for the delays and cancellations and we are sorry that the family and Kyle have been experiencing any further distress at what is already a difficult time.
"Mr Conway has been contacted and it has been confirmed that arrangements have been made to admit Kyle to hospital on Friday 15 May for surgery."
stacey.heaney@ulsterstar.co.uk
Ulster Star
15/05/2009