Applicants sought for new rural funding programme
by STACEY HEANEY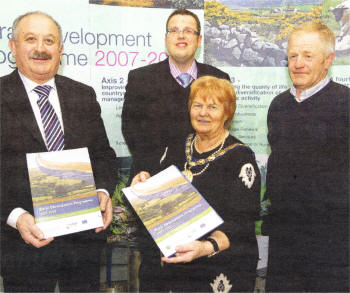 A NEW rural funding programme is has opened to applicants wishing to start up or develop farm diversification and business development projects. Delegates were told of the programme at the official launch of the Lagan Rural Partnership at Hillsborough Village Centre recently.
Lagan Rural Partnership is a newly formed Local Action -Group that will act as the delivery agent for the 'Rural Life' axis of the Northern Ireland Rural Development Programme Fund in the rural areas of Lisburn, Belfast and Castlereagh Councils.
Gareth Evans from the Department of Agriculture and Rural Development explained that the new £8.7 million grant scheme will provide opportunities for significant social and economic investment in the area. He said: "The new fund aims to improve the quality of life and prosperity of our rural areas by supporting a wide range of activities."
Those interested in applying for funding under the first two measures of the programme, farm diversification and business creation and development, need to have their applications sent to the Partnership by the closing date of Thursday April 9 at 5.00pm.
The Partnership is also to release a call for application for the following measures in late Spring:
Encouragement of tourism activities
Basic services for the economy and rural population
Village renewal & development
Conservation and upgrading of rural heritage
Those interested in these measures are encouraged to contact the Partnership to obtain an expression of interest form.
You can request an application pack for the fund by contacting Caroline Speers at Tel: 028925094I9 or email: caroline.speers@lisburn.gov.uk.
stacey.heaney@ulsterstar.co.uk
Ulster Star
03/04/2009