Lagan Valley TUV support Marie Curie Cancer Care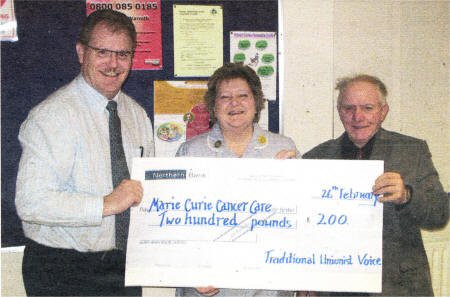 Alderman Cecil Calvert, Lagan Valley Traditional Unionist Voice branch Chairman, and Treasurer Mr William Mitchell recently presented a cheque on behalf of the officers and members of the branch to Mrs Sandra Macauley of Marie Curie Cancer Care
MEMBERS of Lagan Valley Traditional Unionist Voice presented a cheque to representatives from Marie Curie Cancer Care at a recent branch meeting.
Branch Chairman Alderman Cecil Calvert and Treasurer Mr William Mitchell presented a cheque on behalf of the officers and members of the branch to Mrs Sandra Macauley of Marie Curie Cancer Care, following a recent fundraising event. Alderman Calvert said, "It is wonderful to be able to make such a contribution to such a worthwhile cause as this, especially in such times of economic hardship.
"These nurses carry out a vital role in the community and to be able to assist them and their work in this way is particularly pleasing for us," he said.
Mrs Macauley thanked the branch and gave them a brief talk on how the funds will be utilised by Marie Curie Cancer Care.
Ulster Star
22/05/2009