Learning for Life and Work Days at Friends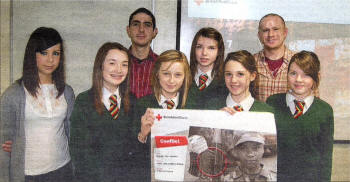 YEAR 9 pupils at Friends' School enjoyed two days off timetable for Learning for Life and Work activities recently.
The days covered aspects of all three strands of the Key Stage 3 Learning for Life and Work programme and involved input from eight different groups from outside the school.
The Bright Futures organisation introduced pupils to the area of Employability, giving them an insight into running their own business.
St John Ambulance came to deliver part of the Personal Development programme. They demonstrated and discussed. First Aid and pupils learned how to perform CPR and correctly bandage a dummy — and a friend!
The afternoon of both days dealt with Citizenship issues. Constable George Ellis from PSNI hosted the 'What Age?' quiz and led a discussion on the topic of legal age restrictions.
Dave from Christian Aid played the poverty game with pupils, showing how poverty and unanticipated events can make life a real struggle for a large proportion of the world's population.
Representatives from the Red Cross gave a presentation and led pupils in interactive activities exploring the issue of child soldiers, helping them to understand the complex issues that can result in some children missing out on their childhood and being caught up in bloody conflicts. In follow up evaluations pupils expressed their appreciation of these days.
Ulster Star
27/03/2009