Road closed as work begins to repair Legacurry Bridge
Closure may take up to two months
by JULIE ANN SPENCE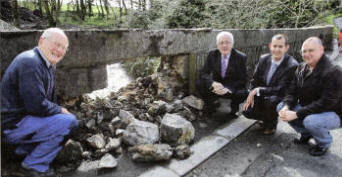 RESIDENTS in Legacurry have urged the Roads Service to begin work to repair Legacurry Bridge as soon as possible after the Upper Ballynahinch Road was closed at its junction with Crossan Road when it was discovered the bridge was in a state of serious disrepair.
It is anticipated the road could be closed for at least two months, causing severe disruption to local residents, businesses, schools and commuters.
Mr Tom Bryans, one of the residents living near Legacurry Bridge, which is hundreds of years old, is appealing to the Roads Service to begin work as soon as possible so that the road can be reopened sooner rather than later.
The bridge is closed due to damage caused over many, many years," explained Mr Bryans. "It has now come to the point that something needs to be done.
"Its going to cause disruption for those using the road and for people in the area, everyone will be affected. We need to accept that from a safety point of view something has to be done.
"It's a necessary evil," continued Mr Bryans, and we would like to see some activity on the ground as soon as possible."
Lagan Valley MLA Edwin Poots, who has visited the bridge with an engineer to inspect the damage said Roads Service had "no option' but to close the road.
"The bridge is in a dangerous condition and in no way should vehicles be allowed to travel on it," said Mr Poots. "However this will cause huge disruption for the local community."
Mr Poots said it would be an inconvenience for local businesses, including Larchfield Estate and The Pheasant Restaurant, and for local farmers whose farms straddle the river.
"We are working with Roads Service in order to achieve as quick a return to normality as possible," he added. A spokesperson for Roads Service confirmed work would take up to two months, however she acknowledged this may change once the full extent of the damage is assessed. "The cost and timescale for completing repair work will depend on the scale of the damage to the structure," she said. "Roads Service is working with its contractor to assess the damage to the bridge and identify the most suitable method for completing repairs.
Translink have also confirmed that buses will be following an alternative route during the road closure. "We are operating a diversion for numbers 26 and 26A affected by this road closure," said a Translink spokesperson. "The bus will be diverted via Hillsborough Road/ Comber Road to Legacurry."
julieann.spence@ulsterstar.co.uk
Ulster Star
10/04/2009