Tributes to the man who was 'the heart of Bow Street Mall'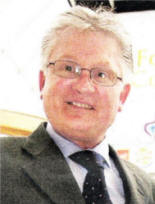 WARM tributes have been paid to the manager of Bow Street Mall, Les Hopson, who passed away on Friday night after an illness.
Tenants and centre management at the Mall united to praise the man who for many years was the public face of the Mall.
Les joined the staff of Bow Street Mall in January 1995 as Operations Manager and became Centre Manager in 1999. During the next decade he worked with Lisburn City Centre Management to promote Lisburn for the benefit of all. In addition to his efficient running of the centre Les was noted as a great people person, and his genuine interest in the tenants, the centre staff and customers was very evident in his day-to-day management of the centre. "His office door was always open for anyone who had a problem or concern or who needed a word of advice or comfort" said one colleague.
"He gave employment opportunities to people who perhaps had not had such opportunities in their past. He encouraged young up and coming people who were starting out with business ideas and was so delighted to see many of them become successful."
Staff at ShoeZone in the Mall said: "Les was not just the Centre Manager, he was the heart of Bow Street Mall.
We enjoyed Les's company and had many funny experiences. We will miss him greatly."
Les had a great interest in fundraising for charities and many can bear witness to the sum of money that he raised. He took part in events and fun days himself all for good causes. Among the appeals which he helped support were the Poppy Appeal, The Lions Club, the Northern Ireland Cancer Fund for Children and in 2009 he helped raise £11,000 for the Northern Ireland Hospice which was the centre's charity of the year.
Les was above all a family man and his wife Betty, son Paul and daughter Sarah were the focus of his life. He fought his illness with amazing courage and fortitude and his aim was to be able to return to the job that he loved in Bow Street Mall.
A spokesperson said: "Tenants, Centre Management and staff miss him greatly and will not see his like again".
Ulster Star
26/06/2009