A very modern way to find out about life in Lisburn a century ago
Last all Ireland census for counties goes online
by NEIL GREENLEES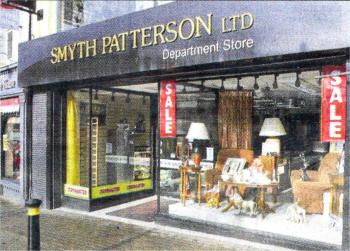 18 Market Square, now the Smyth Patterson Department Store was occupied by boot merchant Thompson Allen, his family and a servant.
CREATING a family tree is a bit like putting together a very intricate jigsaw, but a major internet initiative by the National Archives of Ireland should provide anyone in Lisburn undertaking such a project with at least a few vital pieces of the puzzle.
Staff at the Archives are currently making the Irish results of the 1911 census available online and the latest returns to go live are for Counties Antrim and Down.
The returns from the second census of the 20th century are particularly significant because no further census was taken until the mid 1920's, after the First World War and the political upheaval which surrounded the partition of Ireland.
The 'war to end all wars' claimed the lives of many Irish soldiers while Ireland's troubles' also resulted in death, injury and population shifts.
However, all of this trauma was still in the future on the night of Sunday April 2, 1911 as the citizens of Lisburn and surrounding areas filled out their census forms.
None had to be completed at 12 Bow Street, currently the offices of the Ulster Star, as even then the building was used for commercial purposes and classified in the Census 'House and Building Return' as a shop.
Number 10, now occupied by Orange, was also a shop but number eight (currently Game) was a private dwelling.
The census form relating to this house demonstrates just how valuable a resource these results are for anyone researching their family history.
It shows the owner of number eight was William Adair whose place of birth was County Armagh. In 1911 he had been married to Catherine Jane (47) for 20 years.
Catherine Jane who was born in County Antrim had given birth to six children who all survived -Thomas James (19), William (17), Annie (16), Kathleen Gertrude (14), Joseph (11) and John (9). William (Senior) and his son Thomas were painters and William (Junior) was a mechanic. At the time of the census Annie had no occupation while Kathryn, Gertrude and John were scholars. The family's religion was Roman Catholic and they were all able to read and write.
Interestingly both Joseph and John, the two youngest children, could also speak Irish, perhaps reflecting the growing awareness of Gaelic culture present in Ireland at the time.
As was common in the early 20th century the occupants of number 18 Market Square - now Smyth Patterson's Department Store -included a servant.
The premises appear to have been both a dwelling and a shop owned by Thompson Allen, a boot merchant who was 51 and was born in Lisburn.
His wife Margaret, a native of Co. Derry, was 52 and the couple had two children - Charles (9) and Mary (7).
Both children were born in Co. Antrim as was Thompson's sister Margaret who was also part of the household.
The servant was Ellen Atkinson aged 19. Like Margaret she was born in Co. Derry.
The family were Methodists while Ellen was a member of the Church of Ireland.
If you would like to take a closer look at Lisburn's 1911 census results the website address is www.census.nationalarchives.ie
neil.greenlees@ulsterstar.co.uk
Ulster Star
20/02/2009