Lisburn Action Cancer Group celebrates 10th anniversary
with £25,000 donation
by JULIE ANN SPENCE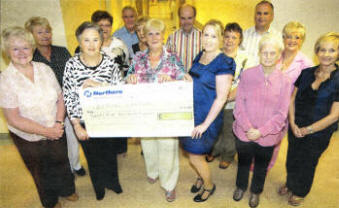 THE Lisburn Group celebrated their tenth anniversary by presenting £25"000 to Northern Ireland's leading cancer charity" Action Cancer. This brings the overall money presented for the charity since the group began to over £580"000.
Norma Bell MBE" Chairperson of the Lisburn Action Cancer Group said: "The Group have worked really hard and have raised the £25,000 since January 2009. I want to thank everyone who has helped in anyway with the sheer determination" commitment and dedication in supporting the Lisburn Action Cancer Group.
"Events organised included the annual street collection" donations in lieu of flowers, musical evening at Hillsborough Castle" Concert at Wallace High School, Easter baskets and funds raised through collection boxes. The generosity of local businesses and members of the general public are also worthy of a mention."
Cathryn Gibson" Community Appeals Officer said: "I want to congratulate the Group on their continued success and pay tribute to their hard work during the last ten years. All the members of the Lisburn Group have done a fantastic job for Action Cancer
and it is a real achievement to raise so much and is an indication of their dedication and flair for fundraising. The work of each volunteer from the newest recruit to the longest standing member is invaluable. This again has proven that the Lisburn people are amongst the most generous in Northern Ireland."
The Lisburn Action Cancer group are always looking for new members and a warm welcome awaits anyone who would like to come along and hear about the Group or would like to join. For more information contact Cathryn Gibson on 9080 3359.
Julieann.spence@ulsterstar.co.uk
Ulster Star
12/06/2009