Book combines Drumbeg man's poems with nostalgic scenes captured by amateur photographer
by Neill Greenlees
| | |
| --- | --- |
| | |
| A photograph of Mr Duff which appears in the book | A view taken from a spot close to the banks of the River Lagan showing the rear of buildings in Bridge Street. |
A BOOK combining the photographs of one of Lisburn's most talented amateur cameramen and the work of a Drumbeg poet who is rapidly becoming one of Northern Ireland's best known writers is now available in the city's bookshops.
'Lisburn Camera and Verse' features a nostalgic collection of photographs, mainly from the 1950's and 60's, by the late Harry Duff, a former Town Clerk of Lisburn Borough.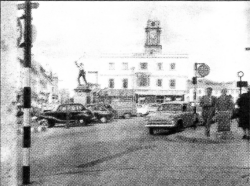 These are accompanied by evocative poems penned by Colin Sloan, a member of staff at Waterstones in Bow Street, which complement each of the scenes. Colin's work reflects aspects of life affecting the people in the images which have not changed during the ensuing four decades.
These include the breaking off of relationships (Phone Box); love (Park Here, Alighting Only); marital stagnation (No Charge, Surfacing) and marital infidelity (Courthouse Blues).
The period spanned by Mr. Duff's photographs also saw Lisburn move closer and closer to irrevocable change.
The same scenes, if shot just a few years later, would have included military vehicles, bomb damaged buildings, patrolling soldiers, security barriers and concrete filled barrels designed to prevent the planting of car bombs.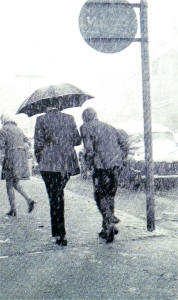 The turmoil about to strike is reflected in the poem 'Key Holders' which refers to shopkeepers sheltering from flames 'behind the bomb disposal vans'.
All the photographs, however, show Lisburn before any of this happened.
J.C. Patterson's corner, Market Square and the old gasworks are all included along with views of the town centre during the big freeze of 1963.
Mr. Duff's niece Anthea McWilliams, who owns 'Art Act' in Castle Street, describes in the first few pages of 'Lisburn Camera and Verse' how she has grown very aware of the particular 'Lisburn Legacy' left by her Uncle. Towards the end of the book Colin Sloan also pays tribute to the talented amateur photographer in a poem entitled 'Mr. Duff' which begins
These children notice everything
Your vantage points, light dancing over panes
the lunar pate behind the lens
they saw you capture them'
The book is published by Brehon Press and is available in Waterstones and other bookshops.
Colin, who has worked on two similar anthologies with award winning Irish News photographer Brendan Murphy will read extracts from the book and discuss its contents at Lisburn City Library on Thursday March 5 at 7.00pm. He will be accompanied on the fiddle by Aidan Mulholland.
The Library has advised anyone wishing to attend to make a booking for the event.