Lisburn college students enjoy big day out in Dublin's fair city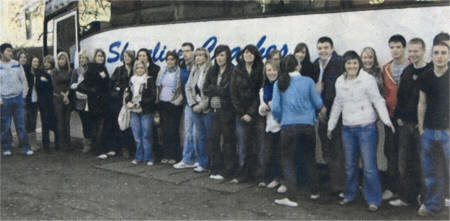 The students get ready for their trip to Dublin
Students from Business, Finance and Management at South Eastern Regional College's Lisburn Campus took part in a familiarisation visit to Dublin City Centre recently as part of their course.
Organised by the Secretarial and Administration students, the trip was open to all Business Students at the Lisburn campus, ranging from BTEC 1st year to HND, as well as both Level 2 and Level 3 Secretarial students.
Course lecturer Mary McGettigan commented: "For many of our students, this was their first visit to Dublin.
It provided them with the opportunity to experience the atmosphere and facilities of a large city and adding to their cultural knowledge and experience.
"The day involved many tasks that our students are likely to find themselves doing in the workplace, giving them the opportunity to see for themselves first hand the kind of work that they will progress onto.
"The contemplation of marketing strategies was another key area covered, as students sought to identify the strategies developed by traders from local street market stalls through to larger retail stores, and compared these to similar businesses in Lisburn city centre area."
Ulster Star
16/01/2009