Lisburn firm signs deal with online bicycle retailer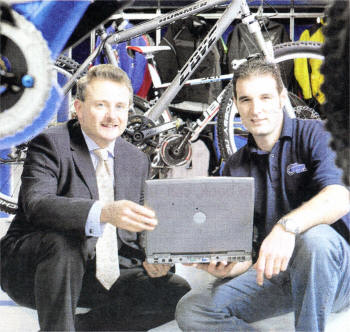 LISBURN IT company Xperience has signed a deal with Doagh based ChainReactionCycles.com to implement Pegasus Opera II, a complete financial and business management solution.
The company's Director Andrew Garvey explained they could supply prospective clients with more than one accounting software solution.
"As a result of this we work very closely with them to ensure that we fully understand their business requirements," he added.
We can then make recommendations as to which solution is the most appropriate to them. We demonstrate our solution so that companies can clearly see how the systems will be used so they can easily assess the potential benefits."
Mr. Garvey described ChainReactionCycles.com as "a very impressive company, growing from a local small family bike shop in 1984 to an online global retailer. "The Pegasus Opera II and Business Intelligence solution that we will be implementing will cover all financial management aspects of their business," he added.
"We are delighted to be working with such a successful locally based company that is without doubt a world leader in its field." The award-winning online bicycle retailer is the largest employer in the Ballyclare area with a workforce of more than 230 staff.
They supply people in more than 100 countries across the world with high value cycle parts and clothing from approximately 300 different brands.
Chris Watson, Managing Director of ChainReactionCycles.com explained:
"We have been expanding at a phenomenal rate and business is up 70% since last year. Due to this expansion, we recognised that we needed to improve our financial and reporting systems.
"Initially we thought we would develop these systems ourselves. However, another business colleague recommended that we contact Xperience who are experts in the industry. When Xperience demonstrated Pegasus Opera II we realised that there was an excellent solution already available. We were particularly impressed by the multi currency functionality and the excellent reporting capabilities of Pegasus Opera II."
Ulster Star
16/01/2009