Lisburn family are smiling down...
by JENNY MONROE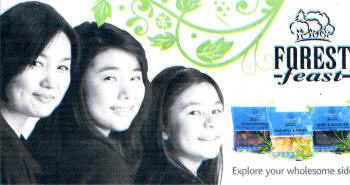 FRIENDS of a Lisburn family will be doing a double take when they see billboards advertising a new healthy snack.
For smiling out at them will indeed be Bayarmaa Teggart and her two daughters, Anouka 15 and Namona B. They are appearing on the billboards after being chosen as one of Forest Feast's 'Real Faces' in a recent province-wide competition run by Kestrel Foods.
The campaign supports the recently launched WholeSnacks Homemade range.
Bayarmaa explained: "I had heard about the promotion on the radio and bought a Forest Feast pack from my local store. I sent the photograph in and thought nothing more about it and didn't tell my daughters that I had entered. I was absolutely shocked when I received the news that we'd won because we never win anything."
She continued: "We had a brilliant time at the photo-shoot and enjoyed the entire experience. It will be amazing to see our faces on posters across Northern Ireland."
Lorraine Hall, Sales and Marketing Director at Kestrel Foods commented: "We were looking for people of all ages - families, friends and people who have made Northern Ireland their home. We had an outstanding response from entrants across the province and received some great photographs.
"We are delighted with this campaign."
Ulster Star
13/02/2009