Margery wrote her first poem
while struggling to come to terms with her son's death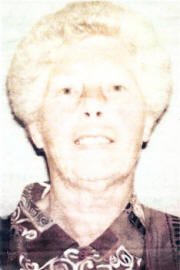 THE husband of Lisburn poet Margery Wilson (nee Hull) who passed away just days before Christmas has described how she began writing in the grief filled wake of their son Errol's death 16 years ago.
Stanley Wilson said his wife, a lady with a deep Christian faith, had pleaded with God to 'take her instead' as they watched Errol succumb to a brain tumour.
When he passed away it seemed her prayer had not been answered and the couple struggled to understand why the young man had been taken from his family.
In the midst of their terrible sorrow they spent time at their caravan in Newcastle and one day while walking along the beach Margery told God that if he 'didn't want her he should use her'.
Her writing aimed at helping people cope with the type of intense grief she and Stanley were experiencing began as soon as they returned to their mobile home.
Published
The poems were published in an anthology entitled The Mountains Call Me' and all proceeds from sales of the book went to the Neuro-Surgical Unit at the Royal Victoria Hospital.
Margery was invited to read some of the poems to Lady Mayhew, the wife of the then Secretary of State Sir Patrick Mayhew.
She also described how she was inspired to write during an Easter Sunday edition of 'Songs of Praise' recorded at Lisburn Cathedral and her work has been included in the popular Radio Ulster series 'My Story'.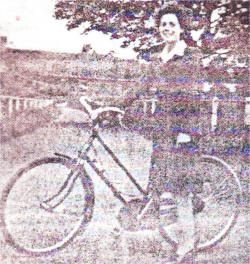 The Ulster Star has featured a selection of Margery's works since the publication of her anthology during the early 1990's.
The last appeared just over a year ago in the edition of November 9 2007.
'Stark Reality' described Margery's first day as an employee of Hilden Mill at the age of just 14.
It gave a thought provoking insight into the life of a young girl whose working day began at 7.30am and did not end until 6.00pm.
The following extract describes how she felt as made her way to the mill on her first day of employment.
"The cold crept through me, making my walk stilted. A need not to be late for my first day forced me to mom quickly. You had to be at work before the mill horn blew or you were locked out.
"Fear lent wings to my feet, overcoming the cold penetrating my bones."
Margery's story continued
"Now I was a mill girl. It would have been lovely if 1 had been going to work in a shop or do something glamorous like being film star or singing on the stage. These were only dreams which at that moment seemed to belong to another world."
Margery, who was born in Grove Street in 1930 and attended William Foote Memorial School, passed away peacefully in hospital on December 16.
She rarely spoke about the ill health she had suffered since the 1950's.
In 1956 she underwent a pioneering heart valve operation at the Royal Victoria Hospital carried out by world famous cardiologist Professor Frank Pantridge.
Similar surgery was carried out in 1976 and she was waiting for a third operation at the time of Errol's death.
Latterly, she and Stanley moved from their home at Orange Hall Lane to Old Manor House in Manor Drive but her funeral was held in the church where she had worshipped for many years - St. Mark's at Ballymacash.
The well attended service was conducted by Rector Canon George Irwin and Margery was laid to rest in Lisburn New Cemetery at Blaris.